by Sarah - September 5th, 2010.
Filed under:
Garden Buildings Direct
. Tagged as:
log cabins
,
village hall cabin
.
Garden Buildings Direct have a range of more expensive sheds for your garden. These are the poshest sheds available and they're called log cabins! They are really excellent for using as an extra room. They are stunningly good to look at and offer you a whole new way of using your garden! The massive village hall log cabin has an internal area of 19.34msq (44mm) and 18.89msq (70mm) – this is big enough for the home office, gym, workshop or even playroom you've always needed!
It'll free up space inside your house and enable you to enjoy being outside so much more. Be right out in the garden – think of the fun you can have with it as a craft workshop for painting or pottery! You'll be the envy of the neighbours!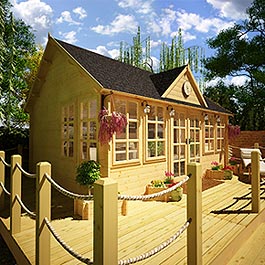 Log Cabin BillyOh Village Hall 44mm Double Glazed 5.5m x 4m
£3399.75
The Billyoh Village Hall Log Cabin 5.5m x 4m Log cabin comes in 44mm and 70mm cladding. There are also options for veranda and double glazing for this Log Cabin . Constructed from solid 44mm timbers, with a 70mm option, this elegant, well-ventilated Log Cabin is a fantastic addition to any garden. This Log Cabin is distinguished by a verandah, and a striking gable feature above the generous double doors, making it an attractive, versatile addition to your garden.