by Sarah - December 4th, 2013
New product at MowDirect
MTD M61 Snow Blower / Snow Thrower – 2 Stage Self-Propelled £519.00
Intended for large-scale domestic use and smaller sized businesses, this 2-stage snow thrower from MTD comes with a host of advanced features that will enable you to keep paths, patios, forecourts, parking areas and driveways clear of snow this winter with the minimum amount of time and effort. It has an advanced drive system comprising 5 separate forward gears and 2 reverse providing ultimate manoeuvrability and enabling you to work at a speed most appropriate to conditions. The extra large-sized wheels (13
by Sarah - December 4th, 2013
New items today at Suttons Seeds
A Plant Hydro System Growing Kit (5 plant kit) £24.99
It may sound odd to grow plants without soil, but commercial growers have been achieving bumper greenhouse crops for decades this way. With these Hydro System kits, you too can enjoy the benefits; plants grow healthier, stronger and more quickly because they receive exactly the right amount of water, nutrients and oxygen exactly when they need it. Nutrients are supplied as blocks with all the natural minerals found in soil. Just plug it in, and keep the reservoir topped with water. Perfect for tomatoes and peppers in a greenhouse or conservatory. Available in two sizes: 3 Plant Kit – 40cm (16) deep x 70cm (27) wide x 20cm (8) high; 5 Plant Kit – 50cm (20) deep x 109cm (43) wide x 20cm (8) high. ONLY 1 LEFT
by John - December 4th, 2013
GreenFingers reduced the price on this item today Christmas Ornament Storage Bag was £9.99 now £6.99
Perfect for storing your Christmas tree decorations this Christmas Ornament Storage Bag is designed especially for storing your Christmas decorations out of season making them easy to keep in your loft garage or shed and features three zipped compartments to separate the different bauble types. Made from non-woven material with bonded nylon non-rot thread for long life it is durable and strong and has a handy red carry handle.Dimensions: L30.5 x W30.5 x H40.5cmFor more ideas and inspiration for your Christmas d
Plus another 0 great reductions
by John - December 4th, 2013
GreenFingers has these new lines today Greenfingers FSC Acacia Deck Chair – Black £37.99
Enjoy the sun and a good book on this comfortable black Greenfingers FSC Acacia Deck Chair. Classically styled the material is made from textilene which is a quick drying material making it ideal should any summer showers suddenly strike. Manufactured from FSC certified acacia a durable hardwood known for it wonderful grain and rich colouring this chair has a warm appearance making it perfect for any location in your garden or on your patio. Easily folded up for storage it can also be popped in your car boot for days out to the beach. Dimensions: L106 x W61 x H84cm Click here for Acacia Information. Requires Adobe Reader.
by Sarah - December 4th, 2013
Every garden needs a bench so you can make time to sit down and enjoy your hardwork.
I read this week of someone going to their allotment with a flask of pumpkin soup (Allotment grown pumpkin) and sitting on their bench admiring their years work whilst enjoying the fruits of their labour. A wonderful ideal that many of us aspire to.
Your garden is another room for you to use – albeit only when it's not raining, but make the most of the outdoor space by sitting outside and admiring the ever changing patterns of leaves and colour.

by John - December 3rd, 2013
Harrod Horticultural reduced the price on this product today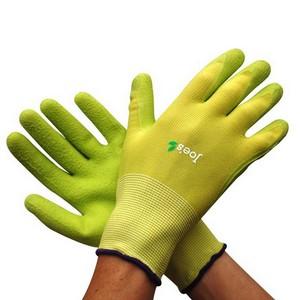 Joe's Essential Gloves was £5.95 now £4.45
Joes Essential Gloves Are The Gardening Handwear Equivalent To Iconic 1980s England Cricketing Legend (now Sir) Ian Botham – They Really Are A Great All Rounder! if A Wardrobe Full Of Gardening Gloves Isnt Your Thing Then Joes Essential Gloves Are The Pair For You; Dexterous Yet Protective, Theyll See You Through Everyday Gardening Tasks With The Minimum Of Fuss Whilst Providing Breathability And Comfort. finished In A Most Attractive Lime Green And Available In Small, Medium And Large Sizes, The Soft Seamless Knitted Yarn Provides An Exceptional Level Of Comfort Whilst The Foam Latex Coating To The Palm And Fingertips Keeps Things Safe At The Coal Face.although We Might Not Be Able To Promise A Century Of Use, You Certainly Wont Be Stumped As To Why You Chose Joes Essential Gloves!joes Essential Gloves Available In Small, Medium And Large Sizesultimate General Purpose Gardening Gloveattractive Lime Green Finishsoft Nylon Seamless Linerfoam Latex Coating To Palm And Fingertipslight Dutydexterousprotectiveopen Back Style Allows Excellent Breathabilityexceptional Level Of Comfortsnug Fit Provides Maximum Dexteritysuitable For Tactile Use Throughout The Gardengreat All Round Garden Glove
by Sarah - December 3rd, 2013
Van Meuwen has these new items today
Holly Collection (Standard Tree) – 3 trees – 1 of each variety – SALE £44.97
Fantastic for year-round interest, these handsome standard holly trees will provide glossy toothed foliage in a variety of colours and striking variegations. White flowers in late spring are followed by spherical red berries in winter, which are loved by birds. These exceptionally hardy shrubs make ideal feature plants in patio containers and borders. Supplied as a pot grown standard plant up to 1m (3′) tall. Mature height: 150cm (59″). Mature spread: 60cm (24″).Collection comprises:Holly 'Golden King' (Ilex x altaclerensis) – A female holly with glossy green leaves edged with golden yellow. Red berries in winter. RHS AGM variety.Holly 'Alaska' (Ilex aquifolium) – A female holly with deep green glossy leaves and red berries in winter.Holly 'Argentea Marginata' (Ilex aquifolium) – A female holly bearing dark green, toothed leaves with a striking creamy-white edge. Abundant red berries in winter. RHS AGM variety.
by Sarah - December 3rd, 2013
New products today at RawGarden
Aluminium garden parasol with crank 2.5mtr – mushroom canopy £69.98
OK, we hear what you're saying. You want a parasol that's affordable, strong and well made!
I give you our Aluminium Garden Parasol 2.5m with a mushroom coloured canvas. We also think that all the strings are annoying, so we replaced them with a reliable crank system. What's best is that the aluminium pole looks great with the wood of the table.
by Sarah - December 3rd, 2013
Nothing says autumn quite like pumpkins, they're used as decoration at halloween and make the best soup ever!
I've grown this first one Potimarron this year and it did really well. I've had about 15 pumpkins off a couple of plants and am really impressed with the taste. We've been turning them into roast pumpkin and soup! Delicious as a side vegetable or an ingredient in something else.
by Sarah - December 3rd, 2013