by Sarah - October 11th, 2010.
Filed under:
garden
,
Garden Buildings Direct
. Tagged as:
shed alarms
.
If you have a shed then it's a good idea to make sure it's locked and secure. Shed security hints include ensuring when you place a shed in your garden then the door and window are facing the house so you can make a visual check regularly that it's secure.
Use a good quality padlock and hasp to keep it locked. Chain down anything valuable inside – link tools together with bike locks to make it easy for them to be take out. You can secure bolts to a concrete floor and this makes for a secure place to fix stuff too.
Ask if your shed is covered on your home contents insurance. It usually is but check what security measures they will require you to have. Don't leave tools outside – not only can they go rusty if they get wet or stolen, but they can also then be used to break in to either your shed or your home.

Some basic security measures means your shed contents will be safe. Simple shed alarms can be effective at letting you know if anything happens to your shed. If you have a shed break in you should report it to the local police. You should also ask your neighbours to watch out as shed thieves tend to target an area.
Reducing thefts from sheds means your life is less stressful and your insurance doesn't go up!
These shed alarms are available at Garden Buildings Direct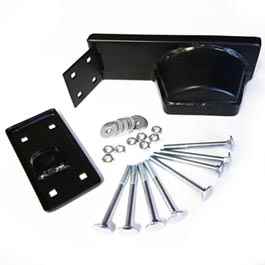 Deluxe 50mm Padlock Protector Security Alarms, Locks and Lighting
£39.95
Building Accessories – The BillyOh Deluxe 50mm Padlock Protector is a more secure shed. This unique hasp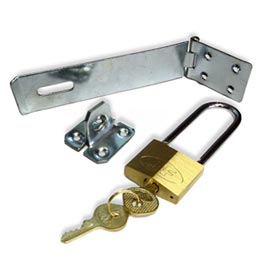 Billyoh Deluxe Padlock Security Alarms, Locks and Lighting
£9.95
BillyOh Deluxe Padlock and Steel Hasp – Make your NEW shed secure with this great BillyOh Deluxe Padlock and Steel Hasp set. BillyOh Deluxe Padlock