by Sarah - January 7th, 2011.
Filed under:
Thompson and Morgan
. Tagged as:
seed potatoes
.
Thompson & Morgan have some seed potato packs. Lots of types of potato and mixed packs.
You can plant all your potatos at whatever time you deem fit. Some are best suited
to being earlies though. Nothing to stop you planting them late though if you
buy some a bit late.
The earlies have fewer potatoes but they form sooner than the main crop.
If you were to dig up the main crop early, there would be lots of little potatoes.
It's only in the last few weeks of growing that they swell in size.
The traditional time for planting out was Good Friday but this is not a date
in stone!
It is normally recommended that you sprout them indoors in a cool light frost
free place which is supposed to give them a start over unsprouted. If you have
room you could put some unsprouted in to test this theory.
No lime needed on the soil.. Light soils are the best as it is easier to. hoe
up to cover developing spuds as the plants grow. This protects the plants from
frosts and ensures that the weeds are kept down. It also stops the potatoes
going green in the light.
Watch out for blight, your main enemy, this can happen in warm damp weather
June or July.
Look for the appearance of early symptoms. Can be sprayed if caught early. If
not, dig up before the blight spreads from leaves to tubers.
Does planting small seed potato mean you get a small crop? Pigeon egg size
or smaller being small, and large seed size bigger than chickens egg.
Small seed potatoes can mean a small crop. But for new potatoes you might want
small potatoes. A big potato might have more spriots on though and need some
rubbing off else you'll get too many plants.
Some people prefer to plant enormous potatoes and get good results.
Earliest first early cropping varieties include:
Swift,(first early) they are THE first early.
Arran Pilot,(first early) for their beautiful taste.
Pentland Javelin,(first early) taste, size and cropping, though a later crop.
Others include: Kestral (Second Early )
Maris Piper,(main crop) I like these because thet crop well and are so versitile
and can be cooked different ways from boiling, baking, chipping, They also keep
well.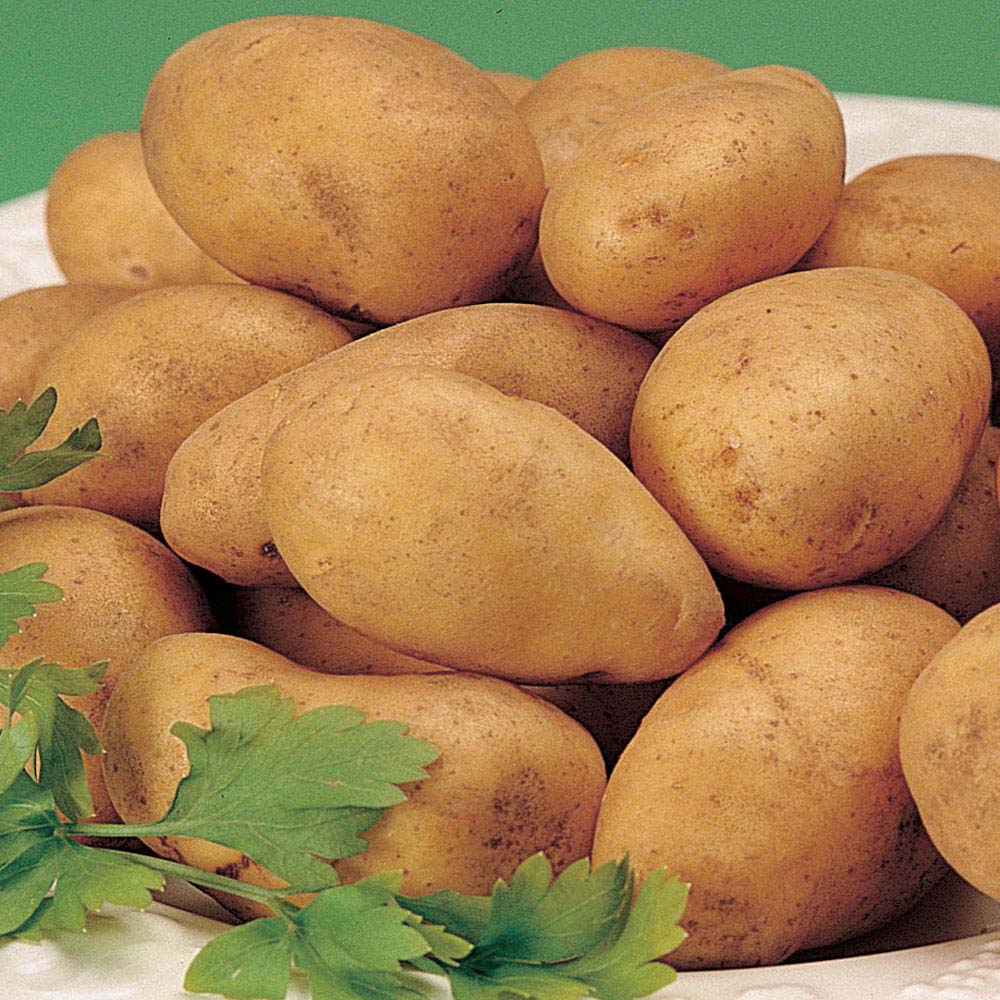 Potato : Accord 20 tuber pack £4.29
Replacing Accent for 2010 with even better disease resistance and high yields. The firm creamy flesh of Potato Accord has a distinctive, tasty flavour. Double eelworm resistant.Easy to grow and the quickest to produce 'baby new potatoes'. Potato Accord is