by Sarah - January 28th, 2011.
Filed under:
Garden Buildings Direct
,
Price Reductions
.
Garden Buildings Direct has cut the price of these products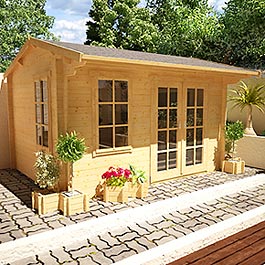 Log Cabin BillyOh Dorset 4.07m x 3.60m was £1999.95 now £1799.95
Log Cabin – This wonderfully crafted log cabin further demonstrates Garden Buildings Direct's growing standing as a leading manufacturer of log cabins . The BillyOh Dorset Log Cabin is a compact yet stylish Log Cabin for those whom would like to indulge in a bit of luxury within the confines of their garden and have limited space. Not detracting away from the Log Cabin itself, this log cabin provides ample interior space and the well crafted features such as the windows and double doors which filter light into the interior adding a heightened sense of space. The overhanging roof gives you the option of sitting outside yet in the shade. Underpinning this unique log cabin concept is second to none craftmanship highlighted by the use of interlocking construction maximising the structural integrity of this 28mm cladded garden Log Cabin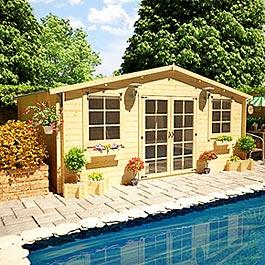 Billyoh Pioneer Raleigh Log Cabin 16′ 4 x 16′ 4 was £2639.95 now £2299.90
The Billyoh Pioneer Raleigh Log Cabin can be used for a multitude of uses from a stylish modern office through to a classic summerhouse. The mix of the two front windows and full Glazed door whilst using solid walls on both sides, ensures that there will be plenty of natural whilst maintaining security.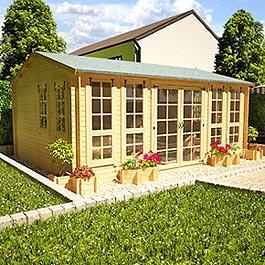 Billyoh Pioneer Brunel Log Cabin 16′ 4 x 12′ 5 was £2629.95 now £2299.90
The range of BillyOh Pioneer 28mm Log cabins has increased in size, with the latest edition being the BillyOh Pioneer Brunel Log Cabin, the traditional design and long windows give this cabin a distinct aesthetic appeal and the envy of any next door neighbour.