by Sarah - February 21st, 2011.
Filed under:
Thompson and Morgan
. Tagged as:
Aquilegia flabellata var pumila kurilensis Rosea
,
Beetroot 'Boro' F1 Hybrid (Organic)
,
Campanula cashmeriana
,
Celery 'Tango' F1 Hybrid -
,
Coriander - Organic
,
Crepis rubra Snow White Cerinthe minor aurea Bouquet Gold
,
Cucumber 'Picolino' F1 Hybrid (Organic)
,
Gaillardia pulchella Sundance -
,
Oenothera versicolor 'Sunset Boulevard' - 1 packet
.
New products added today at Thompson & Morgan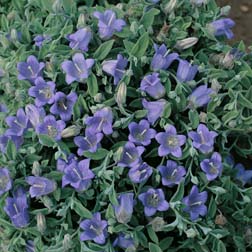 Campanula cashmeriana – 1 packet (100 seeds) £0.69
A charming plant from Afghanistan and Kashmir, ideal for baskets, containers and the rock garden. Although compact, its semi-trailing habit lends itself to all of these uses. Soft grey-green foliage with a profusion of lilac-blue bell shaped flowers, over a long period. Because of its attractive foliage, the plant looks good, even out of flower. Sow early to achieve flowering the same year, in which case it may be used as an annual and then transplanted to the border or rockery to continue growing. Flowers summer. Height 15cm (6in) semi-trailing.