by John - March 28th, 2011.
Filed under:
New Products
,
Thompson and Morgan
.
Thompson & Morgan has these new lines today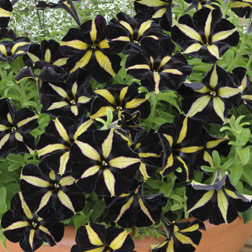 Petunia 'Phantom' – 15 jumbo plugs £19.99
An amazing breakthrough in breeding has created this brand new colour combination, earning the breeder the prestigious Fleurostar Industry Award for 2010! Sleek and sophisticated, this astonishing new petunia has a black base colour with a distinctive yellow star, blushed around the edges with a dark purple pink. Incredibly, Petunia 'Phantom' even improves with a little neglect – our extensive trials found that the unique colours are enhanced when the compost is kept slightly dry. With an upright, mounding habit, and good weather resistance this astonishing variety look great in low terracotta containers, hanging baskets, or window boxes. Height and spread: 30cm (12").