by John - March 30th, 2011.
Filed under:
New Products
,
Thompson and Morgan
.
New products today at Thompson & Morgan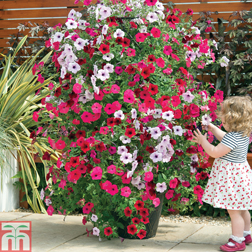 Petunia Tidal Wave – 5 jumbo plugs £7.99
The sky's the limit for this spectacular climbing surfinia petunia! Masses of 10cm (4") blooms in purple, silver and pink are produced in abundance throughout summer on long lax stems. Train them upwards on a climbing frame or let them spill over low walls for a spectacular display of vibrant colour. The delicate blooms are more tolerant of wet weather than most varieties so you are guaranteed a brilliant display whatever the weather! Height: 1.9m (6'). Spread: 90cm (3').Includes 10 Steps to Success – a step by step guide to growing your Petunia 'Tidal Wave' plants.To make the most of your displays, try our exclusive supportive climbing frame, specially designed to help plants to climb easily.Get the best out of your petunias with our specially formulated Petunia Fertiliser – the perfect balance of nutrients to get them off to a flying start and nourish them through the summer.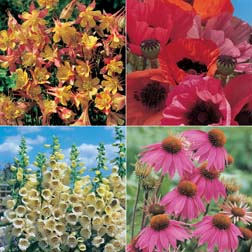 Perennial Garden Collection – 4 packets – 1 of each variety £7.49
SPECIAL OFFER – Perennial Garden Collection comprises 1 packet each of:Aquilegia FirecrackerEchinacea MagnusFoxglove Primrose CarouselPoppy Fruit Punch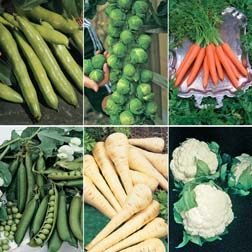 Sunday Lunch Vegetable Collection – SPECIAL OFFER – 6 packets – 1 of each variety (1120 seeds in total) £7.47
Imagine going out into your garden and picking all the vegetables you need for your Sunday roast! You'll have the satisfaction of knowing that you grew them yourself and that they are as fresh as they could be – and all for the price of a few packets of seed! Vegetables taste so much better when they have just been picked or pulled from the ground. Don't waste your time with supermarket veg – there's not much goodness or flavour in veg that's been sitting on a shop shelf for a week and then in your fridge for a few days! The vegetables featured here are easy to grow and will help create a delicious and nutritious Sunday lunch.Sunday Lunch Vegetable Collection comprises one packet each of:Broad Bean Aquadulce Claudia (50 seeds)Brussels Sprout Trafalgar (40 seeds)Carrot Tendersnax (250 seeds)Cauliflower Gipsy (30 seeds)Parsnip Gladiator F1 Hybrid (300 seeds)Pea Hurst Green Shaft (450 seeds)
Aster Composition – 1 packet (60 seeds) £2.69
Michaelmas Daisies – Bright colours of Aster novi-belgi and novae-angliae composed for a contrasting rich colour range of long stemmed autumnal flowers for cutting.