by Sarah - May 19th, 2011.
Filed under:
Garden Buildings Direct
,
New Products
.
New products today at Garden Buildings Direct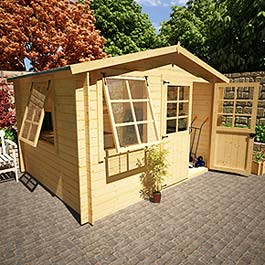 19mm Log Cabin Workshop 11 x 9 £999.90
The BillyOh Log Cabin Workshop has been designed to provide an effective work space or a place to store all of your garden essentials. The building also provides an ample interior space with generous ridge height and is constructed using robust framing for additional rigidity. . A great feature of this log cabin workshop is that the well crafted windows can be placed on either side of the building to suit your individual requirements. The building provides superb access through the extra wide double doors which are secured by a push bolt mechanism. . The BillyOh Log Cabin Workshop comes with pre-assembled TandG floor sections and TandG roof boards for ease of assembly and rapid installation. . Underpinning this unique log cabin concept is second to none craftsmanship highlighted by the use of interlocking construction , maximizing the structural integrity of this impressive garden building. . Building Dimensions . . . . Door Opening Width – Metric 1.49m Imperial 4′ 11 . Door Opening He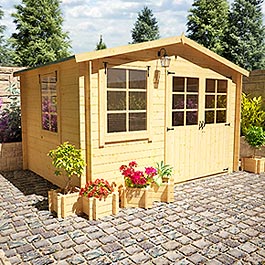 Log Cabin Billyoh Pathfinder Sportsman 3.24m x 2.61m £999.90
This Log Cabin from our own Log Cabin range. This Log Cabin made in the UK. The BillyOh Pathfinder Sportsman II Log Cabin is constructed designed using cutting edge technology 19mm thickness. The Sportsman Log Cabin can be assembled with the side window on either side, in addition the front door and window can be assembled in the configuration shown or reversed. The BillyOh Sportsman Log Cabin has a variety of uses to ensure that your space that it takes in the garden is fully maximised.