by John - May 21st, 2011.
Filed under:
New Products
,
Thompson and Morgan
.
Thompson & Morgan just added hundreds of new lines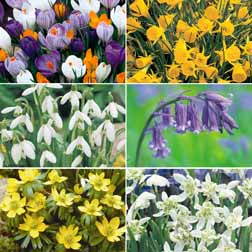 Naturalising Bulbs Collection – 165 bulbs – 1 pack of each variety £39.99
These easy to grow bulbs will give a stunning show of flowers from late winter to spring and are perfect for naturalising in your garden. The collection includes:Crocus Mixed – 50 bulbs – For a sparkling spring show crocus are hard to beatWinter Aconite – 24 bulbs – Seeing these deep yellow, buttercup-like flowers is a sure sign that spring is on its wayBluebells – 25 bulbs – Their rich, violet-blue nodding bells ring through the spring season until summer approachesSingle and Double Flowered Snowdrops – 25 bulbs of each – Easy to grow and they'll multiply each year, covering your garden with a carpet of white each springDaffodil 'Golden Bells' – 16 bulbs – Commonly known as the 'Yellow Hoop Petticoat'. Up to 20 stems per bulb!