by Sarah - May 24th, 2011.
Filed under:
Thompson and Morgan
.
You plant shallots in the same way as onions, leaving the tip of the bulb exposed. You can also start shallots from seed if you can't get the bulbs.
You can plant them about 6″ to 8″ (15cm-20cm) apart – in rows the same distance apart. Keep the bed weeded and wait until the leaves finally turn yellow.
The grow in a ring around the original and in a ring shape. You lift them as such, dry and store like onions. They should keep longer. They are much used in recipes and can replace onions!
Tons of shallots available at Thompson & Morgan.
There's an autumn planting but most should be planted in the spring!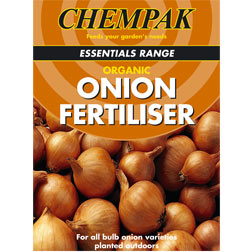 Chempak Onion Fertiliser – 1 x 4.8kg pack £12.99
Chempak organic onion fertiliser is a specially formulated granular fertiliser with essential nutrients, in the correct balance, slowly released throughout the season to give tastier and increased yields of quality onions, shallots and garlic.1.2kg is sufficient for planting 90 onion sets in a 9m (30ft) row. N:P:K – 4:6:12 + 4Mgo)