by Sarah - July 6th, 2011.
Filed under:
Thompson and Morgan
.
Thompson & Morgan has these unusual vegetables for your garden! If you're after growing something slightly different from the usual beans and peas then this selection will give you food for thought!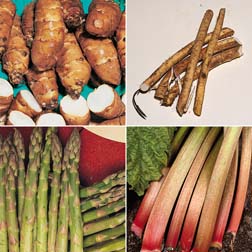 Gardener's Value Collection – 20 tubers + 5 thongs + 3 crowns + 10 crowns £29.99
An exceptional collection of fruit and perennial vegetables that offer incredible value and provide delicious crops year after year.Collection comprises:Jerusalem Artichoke 'Fuseau' (20 tubers) – An increasingly popular, smooth tubered variety, making them easier to prepare for the kitchen than the traditional knobbly tubers. Height: 3m (10″). Spread: 90cm (35″).Horseradish (5 thongs) – The original accompaniment to roast beef and nothing beats the bite of your own freshly grated horseradish root. Easily grown thongs quickly establish and as a perennial remain in the same place once planted. Height: 60cm (24″). Spread: 45cm (18″).Rhubarb 'Victoria' (3 crowns) – Tender flesh with an excellent balance of sweetness and acidity. These young plants will quickly mature, resulting in crowns big enough to harvest from 2 years after planting. Height: 60cm (24″). Spread: 120cm (48″).Asparagus 'Thielim' (10 crowns) – One of the latest hybrids, early to crop with a superb high yield of thick, tasty spears. Less susceptible to Botrytis. Height: 150cm (59″). Spread: 45 cm (18″). Caution: Horse radish sap may be irritant to skin and eyes. Rhubarb leaves are toxic if eaten.