by John - July 21st, 2011.
Filed under:
New Products
,
Thompson and Morgan
.
Thompson & Morgan just added these new lines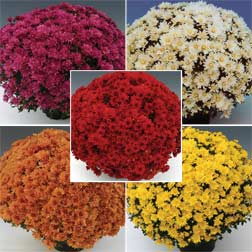 Chrysanthemum Collection – 25 plugs £6.99
Prolong the beauty of your garden with this brightly coloured chrysanthemum collection. Ideal to grow in your borders or on your patio, these chrysanthemums will display spectacular domes of large, brightly coloured blooms from late summer into the autumn. Plus, as they are a hardy perennial they will flower for many years to come. Height: 45cm (18″).
Aquilegia caerulea 'Sunshine' – 1 packet (80 seeds) £1.99
Gorgeous, fully double, pastel yellow blooms with very long 5cm (2″) spurs smother this bushy Columbine from late spring. This hardy perennial is border stunner when planted in drifts to create an eye-catching feature. A Fleuroselect Novelty Award winner, Aquilegia caerulea 'Sunshine' makes a delightful cut flower too . Height: 60cm (24″). Spread: 30cm (12″).