by John - August 24th, 2011.
Filed under:
New Products
,
Thompson and Morgan
.
New item at Thompson & Morgan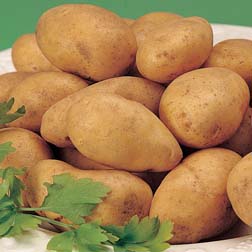 Potato 'Accord' – 5 tubers £2.99
First early.Potato 'Belle de Fontenay' is an old French variety esteemed for its flavour which further improves on storage. This pre-1950's first early variety, produces beautiful pale yellow tubers with a notably firm, waxy texture, making it an excellent salad potato. Height and spread: 60cm (24″).For more information on potato cropping types, harvest periods and culinary uses, click here to view our Potato Selector Guide.