by Sarah - October 3rd, 2011.
Filed under:
allotment
.
If you have seeds that are described as 'early' then you can try out planting these at the end of the normal season overwintering. There is the odd exception, for example parsnips which like warmer soil in Spring. But if you have spare seeds it's worth a try. Experiment. Start some in a cold frame and some in an open bed. Take notes maybe and see which does best. Any under cover should be earlier by a few weeks.
Something like Perpetual spinach is worth a try. Sow successively from July.
Spinach Beet Perpetual Spinach Seeds from Plant Me Now £1.75
Delicious spinach substitute, but easier to grow. High yields of nutritious greens, resists bolting in summer. Excellent source of folate and good for potassium.
Spinach 'Perpetual' (Spinach Beet) – 1 packet (250 seeds) from Thompson & Morgan £1.89
If your summer spinach is always running to seed before you manage to get a worthwhile crop off it, then Spinach Perpetual is the variety for you because it virtually never runs to seed in its first season, therefore very good on dry ground. Spinach Perpetual is succulent, prolific and very hardy, suitable for autumn and winter crops too.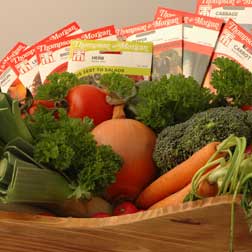 Healthy Vegetable Collection – 11 packets – 1 of each (2926 seeds in total) from Thompson & Morgan £15.99
Thompson & Morgan are pleased to be working with Dr. Laurence J. Trueman, the research leader at Horticultural Research International. Dr. Trueman says that the 5-a-day mantra is eating as wide a variety of fruit and vegetables as you can. However, if your plot is small he suggests the following Top 11 Healthy Vegetables to help you maximise the potential for health benefits.Collection comprises 1 packet each of:Pea Rondo – Rich in vitamins, they help remove harmful cholesterol.Onion Red Baron – The red ones have an extra benefit for the heart; anthocyanin.Spinach Perpetual – Popeye was right! You can eat no better vegetable.Kale Dwarf Green Curled & Broccoli Tendergreen – The only brassicas you really need!Watercress – A rising star: the healthiest natural super food available.Leek Oarsman F1 Hybrid – Enjoy to combined advantages of onions and green leafy vegetables.Tomato Aviro F1 Hybrid – Red pigment lycopene is a very big asset to health.Soya Bean Elena – The Chinese know about healthy food – they eat lots of these.Carrot Rainbow F1 Hybrid – Try the multicoloured ones for the full benefit of plant carotenoids.Pepper Summer Salad F1 Hybrid – Antioxidants in bright colours help fight the war against ageing.