by Sarah - October 22nd, 2011.
Filed under:
Thompson and Morgan
.
Fantastic range of autumn planting rhubarb available now at Thompson & Morgan. We love rhubarb in our house. It's a great thing to grow in the garden as it's early to harvest and means you can enjoy rhubarb crumble for pudding! Don't pick any the first year no matter how much you want to. It really does impact the growth.
They need the leaves for gathering as much sunshine as possible to help the root system grow. So leave it alone! YES LEAVE IT ALONE!
Get some well rotted compost or manure for it and cover the area where you plant it. Leave apart from weeding around it carefully.
Rhubarb needs a long term bed so prepare the soil well. Weed completely several times, dig in well rotted manure and plant well.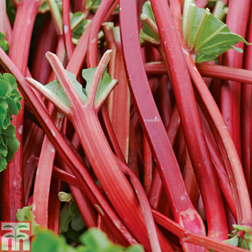 Rhubarb 'Fulton's Strawberry Surprise' Patio Kit – 1 plant + 1 grow bag £14.99
Strong, vigorous plants produce flushes of eye-catching, vivid red stems with a well balanced acidity. Rhubarb 'Fultons Strawberry Surprise' was voted the best flavoured rhubarb in RHS Wisley trials and holds an RHS AGM. The attractive stems are perfect for making delicious pies and crumbles. Height: 60cm (24″). Spread: 120cm (48″).These rhubarb crowns are supplied with 40 litre bags making them perfect for growing in small spaces such as patios and balconies. These young plants will quickly mature, resulting in crowns big enough to harvest from 2 years after planting.