by Sarah - January 30th, 2012.
Filed under:
Thompson and Morgan
.
Thompson & Morgan sell Dwarf Borlotti beans. Some people prefer to just eat the beans when you harvest> Good for pots.
The hilum is the palest oval bit of the seed. This is where it was attached in the pod.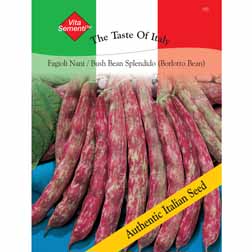 Dwarf Bean 'Splendido' (Borlotti Bean) – Vita Sementi® Italian Seeds – 1 packet (60 grams) £2.29
The broad, 13cm (5") pink-red pods of this attractive variety each contain 6-7 cream and red streaked Borlotti beans. The immature pods of Dwarf Bean 'Splendido' can be harvested and used as French beans, but are best left to mature and harvested for the full sized seeds in autumn. Height: 45cm (18"). Spread: 30cm (12").