by Sarah - February 2nd, 2012.
Filed under:
Thompson and Morgan
.
Great value way of buying plants.
Thompson & Morgan have tons of great offers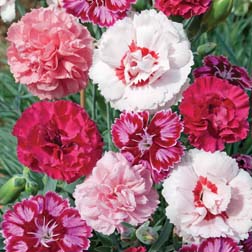 Dianthus Lucky Dip – 1 lucky dip – pinks £6.99
Buy our great value 'surprise' packs of 'pinks'. For just £6.99 you can receive a pack of pinks worth £9.99. To allow us to offer you such a good price, we can't take orders for specific varieties, but whatever we decide to send, you won't be disappointed!What to do … Each customer can order up to 5 'Lucky Dip' packs. If you order more than 1 pack, we'll do our best to send a different variety for each pack ordered, subject to availability. A pack represents a single variety and not a mixture of several varieties. We will also endeavour to send a different variety from any standard products you may have ordered, but this cannot be guaranteed. Culinary note: Dianthus flowers are edible. Culinary note: Some parts of these flowers are edible. For more details about edible flowers click here.