by Sarah - February 10th, 2012.
Filed under:
Thompson and Morgan
.
Thompson & Morgan have this great mixed packet of seeds.
Ideal for anyone wanting to start growing cacti!
The best cactus hint I have ever heard is a very wise piece of advice. Never put a cactus on a chair.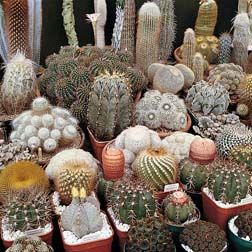 Cactus 'Special Mix' – 1 packet (80 seeds) £2.99
All sorts of easy to grow cacti all of which are ideally suited to window-sills, sun rooms or greenhouse. Height 10-60cm (4-24in). Flowering most times of year. Packets should contain: Carnegia gigantes, Ferocactus aconthodes, Ferocactus wislenzii. Lemairocereus thurberi. Opuntis phaecantha, Opuntis chtorotica, Pachycereus pringlii, Cylindropuntia Imbricata.