by Sarah - February 12th, 2012.
Filed under:
Thompson and Morgan
.
Also available as – 72 plug plants of Freesia 'Crown Jewels Mixed' for only £13.99
at Thompson & Morgan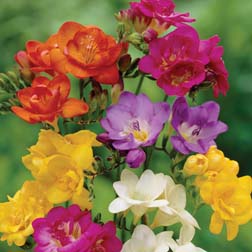 Freesia 'Crown Jewels Mixed' – 36 plug plants £10.99
Mail order exclusiveBest in class for freesiasThanks to new technology, we can now offer you high quality plants from seed instead of freesia bulbs. Freesia 'Crown Jewels Mixed' are double the size, double the colour, and double the fragrance of other varieties! From the world's leading, royal warranted freesia breeder, this pack will give more than £100 worth of cut freesia flowers! Plants are grown from seed; so they are strong, fresh plants, and they'll flower in the same year from a late spring planting. These world exclusive freesias are only available from Thompson & Morgan. Height: 45cm (18"). Spread: 15cm (6").