by Sarah - February 22nd, 2012.
Filed under:
Thompson and Morgan
.
Thompson & Morgan have three interesting Japanese vegetables
Spring Onion 'Summer Isle' – 1 packet (500 seeds) £1.99
A superb Japanese bunching onion, Spring Onion Summer Isle has been bred for its sweet flavour and low pungency. Sow in succession for harvests during summer and autumn. Spring Onion Summer Isle is fantastic in salads and stir-fries. (Allium cepa) Culinary note: Some parts of these flowers are edible. For more details about edible flowers click here.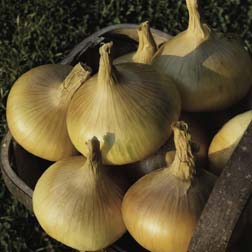 Onion 'Senshyu' (Autumn Planting) – 1 pack £4.49
Autumn Planting.Onion 'Senshyu' is one of the original Japanese overwintering varieties, which has proven successful for many years. This reliable main crop produces good yields of semi-flat bulbs with straw yellow skins. Height: 45cm (18"). Spread: 15cm (6").Pack size: 250g when packed, sets size between 17-21mm (approx 50 sets), or 14-21mm (approx 75 sets), dependent on weather, harvesting and grading issues.
Carrot 'Sweet Candle' F1 Hybrid – 1 packet (300 seeds) £2.99
This Japanese bred carrot has beautifully smooth, orange skin and blunt, cylindrical roots. The bright orange flesh is virtually coreless with a superb sweet flavour. With excellent uniformity, Carrot 'Sweet Candle' is a popular variety late summer and autumn cropping, finding favour on the showbench as well as in the kitchen. Height: 30cm (12"). Spread: 15cm (6").Useful links:How to grow carrots