by Sarah - February 22nd, 2012.
Filed under:
Thompson and Morgan
.
Thompson & Morgan have two types of land cress – both useful for overwintering and providing food during the worst months.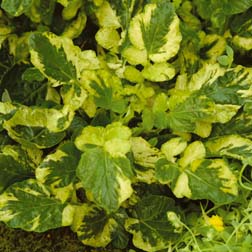 Variegated Land Cress (Winter) – 1 packet (1000 seeds) £1.89
Barbarea vulgaris. A new 100% variegated introduction. Variegated Winter Land Cress is very popular as a salad ingredient with a taste and look reminiscent of watercress. Variegated Winter Land Cress can be harvested virtually all the year round, if covered with cloches during severe winter weather. Flavour guide: Crisp and tangy; alternative to watercress.
Salad Leaves 'Land Cress' – 1 packet (1100 seeds) £1.99
An interesting water cress substitute, Land Cress is ready in 7-8 weeks. Sow seeds from early spring onwards, over-winters too. Vitamin, iron and calcium rich cress which tastes almost like watercress but has a smaller leaf providing a continuous supply over a long period. Salad Leaves Land Cress is easy to grow and does best in a cool moist soil and part shade.