by Sarah - February 24th, 2012.
Filed under:
General Gardening
.
For most trees you're likely to be planting a single stake which comes up about 1/3 of the height of the tree (at planting not final height) will do. Put it in the hole before you put the tree in and then carefully put the tree in.

The purpose of a stake is to allow the roots to anchor fully into the ground. This can take a couple of years. It's ok for the top part to sway in the wind.
Put the stake on the side of the tree of the prevailing wind (Which way the wind normally blows) so that when it's windy the tree blows away from the stake but it should be held firm and not allowed to go past a certain amount.
You can buy special tree ties or use folded back pieces of gaffer tape as these are soft, strong and will last for the few years they need to.
You could also use plaited tights. Use a twisted loop to make it move less and be more secure.
You can also insert a piece of pipe to allow easy watering but for most people this is something they're not going to bother doing in normal years.

Some people swear by two short stakes with a fastening between, but obviously you need two stakes per tree then.
Garden Tree Stake – Size: 50mm x 2.4m
£5.99
Timber Garden Tree Stake 40mm x 1.8m
£3.43
Garden Tree Stake – Size: 90 x 1520mm
£7.99
Thompson & Morgan will sell you tree stakes when you order trees from them.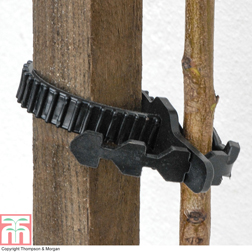 Tree Stake & Tie Pack – 1 pack £3.99
We can supply the necessary Stake and tie required when planting any of our fruit trees.Pack contains one 1½m (5 foot) treated timber stake and a plastic adjustable tie.PLEASE NOTE: These can only be ordered with trees, as they will be packed and sent together.