by Diane - March 1st, 2012.
Filed under:
allotment
,
Thompson and Morgan
.
When deciding what tree to plant, consider things you can't easily get in the shops. I love damson jam and can occaisionally get them at the local greengrocers for a short period in September. But I want to grow my own.
I will be buying one very soon!
Thompson & Morgan have this one! I will be ordering this week! They will delivery them by the middle of April!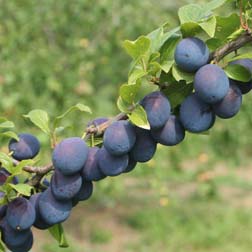 Damson Plum 'Merryweather' – 1 feathered maiden £22.99
A medium sized Damson plum with good resistance to silver leaf disease.
Damson 'Merryweather' produces heavy crops of large, yellow fleshed fruits for picking in late August.
The blue skinned plums have a juicy, acidic flavour which is ideal for making delicious flavoured preserves.
Grafted onto a semi-dwarfing rootstock, to produce a compact, productive tree. Damson 'Merryweather' is self-fertile and therefore does not require a pollination companion. Height and spread: 2.5m (8'). Rootstock: St. Julien A.