by Diane - March 5th, 2012.
Filed under:
Bedding plants
,
Thompson and Morgan
.
Thompson & Morgan have some great offers at the moment –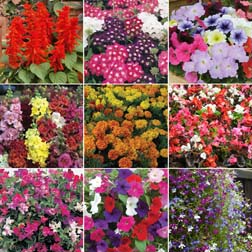 Patio, Bedding and Basket Pack variety – 108 plugs – 12 of each variety £18.99
Everything you need for your beds, borders and baskets! This fabulous collection will fill your garden with colour that will last all summer long.In this great value collection you will receive 12 plugs each of Petunia 'Frenzy Mixed', Salvia 'Blaze of Fire', Verbena 'Quartz Mixed', Begonia 'Organdy Mix', Antirrhinum 'Madame Butterfly', Marigold 'Zenith', Sweet Pea 'Sugar n Spice'™, Petunia 'Easy Wave' and Lobelia 'Ultra Cascade'. See individual products for more details.