by Diane - March 7th, 2012.
Filed under:
Thompson and Morgan
.
It really is time to think about planting potatoes – here are some at T&M incase you need some ordering.

Lots of potato collections at Thompson & Morgan
You don't need to chit potatoes – some people believe you get better results if you do though. North facing window best.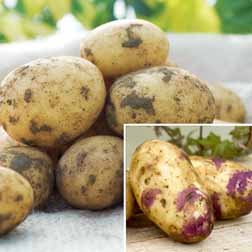 Gourmet Potato Collection and Planters – 15 tubers – 5 of each variety £7.99
Customer RatingIntroduced exclusively by Thompson & Morgan- Best In Class – for gourmet potatoes- Bumper crops of evenly-sized attractive potatoes- Growing mouth-watering potatoes couldn't be easierSecond early, early maincrop.Colin Randel, Chairman of the RHS Vegetable Trials Committee has tried and tested hundreds of potatoes over the years. With his specialist knowledge he has picked three tasty potato varieties as his top rated for flavour. Our wicker-effect planters make an attractive and convenient way to grow the best potatoes that you have ever tasted. Height and spread: 60cm (24″).Collection comprises: Potato 'Blue Belle' – Early maincrop. Increasing in popularity for the home grower, this versatile and attractive looking potato produces good yields that are suitable for a wide range of culinary uses.Potato 'Inca Bella' – Second early/ early maincrop. From 'Mayan Gold' parentage, with a pink-blushed cream coloured skin and golden coloured flesh. The distinctive nutty flavour makes this variety a superb salad potato, or harvest later as an early maincrop if larger tubers are required. Cooks approximately 30% quicker than your usual potato.Potato 'Piccolo Star' – Second early. Very high numbers of mouthwatering, oval baby new potatoes, with a firm waxy texture and bright, creamy skin and flesh. Absolutely superb as a boiled 'new potato' or left to cool as a salad potato.Useful links:How to grow potatoes in the ground Potato Selector GuideHow to grow potatoes in bags    How to stop blight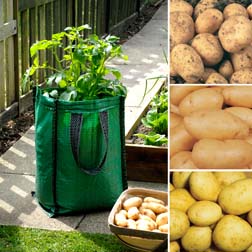 Potato Collection – 'Charlotte', 'Maris Peer' and 'Vales Emerald' – 15 tubers, 5 of each variety £8.99
Customer RatingFirst early, Second early.Grow your own potatoes with this outstanding selection of first and second-early varieties for a bumper crop of delicious new and salad potatoes. Height and spread: 60cm (24″).Collection comprises: Potato 'Charlotte' – A very popular second early salad variety producing pear shaped, yellow skinned, waxy tubers and creamy yellow flesh of first class flavour.Potato 'Maris Peer' – Second-early. Firm, creamy yellow fleshed tubers with a superb flavour, that will retain their colour and won't disintegrate on cooking. Potato 'Vales Emerald' – Perfect for your first potatoes of the year and a simply delicious new potato. First early.Useful links:How to grow potatoes in the ground Potato Selector GuideHow to grow potatoes in bags    How to stop blight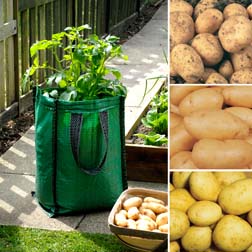 Potato Collection – 'Charlotte', 'Maris Peer' and 'Vales Emerald' – 3 patio planters + 15 tubers – 5 of each variety £14.99
Customer RatingFirst early, Second early.Grow your own potatoes with this outstanding selection of first and second-early varieties for a bumper crop of delicious new and salad potatoes. Height and spread: 60cm (24″).Collection comprises: Potato 'Charlotte' – A very popular second early salad variety producing pear shaped, yellow skinned, waxy tubers and creamy yellow flesh of first class flavour.Potato 'Maris Peer' – Second-early. Firm, creamy yellow fleshed tubers with a superb flavour, that will retain their colour and won't disintegrate on cooking. Potato 'Vales Emerald' – Perfect for your first potatoes of the year and a simply delicious new potato. First early.Useful links:How to grow potatoes in the ground Potato Selector GuideHow to grow potatoes in bags    How to stop blight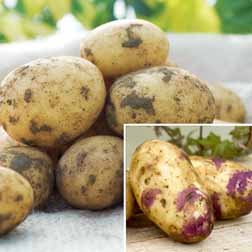 Gourmet Potato Collection and Planters – 15 tubers – 5 of each variety plus 3 planters £14.99
Customer RatingIntroduced exclusively by Thompson & Morgan- Best In Class – for gourmet potatoes- Bumper crops of evenly-sized attractive potatoes- Growing mouth-watering potatoes couldn't be easierSecond early, early maincrop.Colin Randel, Chairman of the RHS Vegetable Trials Committee has tried and tested hundreds of potatoes over the years. With his specialist knowledge he has picked three tasty potato varieties as his top rated for flavour. Our wicker-effect planters make an attractive and convenient way to grow the best potatoes that you have ever tasted. Height and spread: 60cm (24″).Collection comprises: Potato 'Blue Belle' – Early maincrop. Increasing in popularity for the home grower, this versatile and attractive looking potato produces good yields that are suitable for a wide range of culinary uses.Potato 'Inca Bella' – Second early/ early maincrop. From 'Mayan Gold' parentage, with a pink-blushed cream coloured skin and golden coloured flesh. The distinctive nutty flavour makes this variety a superb salad potato, or harvest later as an early maincrop if larger tubers are required. Cooks approximately 30% quicker than your usual potato.Potato 'Piccolo Star' – Second early. Very high numbers of mouthwatering, oval baby new potatoes, with a firm waxy texture and bright, creamy skin and flesh. Absolutely superb as a boiled 'new potato' or left to cool as a salad potato.Useful links:How to grow potatoes in the ground Potato Selector GuideHow to grow potatoes in bags    How to stop blight