by Diane - March 12th, 2012.
Filed under:
Bedding plants
,
Thompson and Morgan
.
Thompson & Morgan have some great deals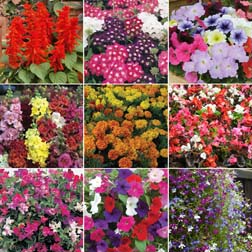 Patio, Bedding and Basket Pack variety – 108 plugs – 12 of each variety £18.99
Everything you need for your beds, borders and baskets! This fabulous collection will fill your garden with colour that will last all summer long.In this great value collection you will receive 12 plugs each of Petunia 'Frenzy Mixed', Salvia 'Blaze of Fire', Verbena 'Quartz Mixed', Begonia 'Organdy Mix', Antirrhinum 'Madame Butterfly', Marigold 'Zenith', Sweet Pea 'Sugar n Spice'™, Petunia 'Easy Wave' and Lobelia 'Ultra Cascade'. See individual products for more details.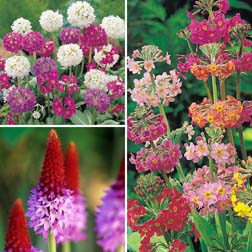 Primula Hardy Collection – 12 jumbo plugs – 4 of each variety £17.99
When early spring flowers begin to fade, this handsome collection of primulas will happily fill the gaps in your borders with glorious colour until summer bedding plants burst into bloom. These exquisite hardy primulas are ideal for damp, shady spots and simply stunning in large groups. Height: Up to 60cm (24"). Spread: 30cm (12").Primula Candelabra (top right) – Statuesque tiers of delicate florets are produced on tall stems. Primula denticulata (bottom right) – Basal rosettes of foliage give rise to amazing 'drumstick' flower heads.Primula vialii (left) – Tall, scented flower spikes add stature to borders and make excellent cut flowers too.