by Diane - March 15th, 2012.
Filed under:
Thompson and Morgan
.
An easy way of getting several fruit trees
Brilliant offers available at Thompson & Morgan
I think everyone should plant a fruit tree this year! It's a small investment in the future. A fruit tree will give you free fruit for years to come.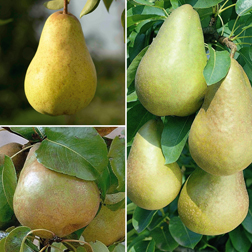 Pear 'Family Pear Tree' – 1 tree £39.99
An entire orchard on just one tree! Family fruit trees have three different varieties grafted onto one stem, which will pollinate each other and crop at different times to extend the picking season. Perfect for the smaller garden with room for only one tree; and even suited to growing in a large patio container (holding at least 30 litres of compost). Pear rootstock: Quince A. Height and spread if not containerised: 4m (13').Family pear varieties: Pear 'Conference' – One of the best known dessert pears, and tolerant of even cold, shady positions.Pear 'Williams Bon Chretien' – Often simply known as 'Williams', the fruits of this superb pear turn yellow as flesh ripens.Pear 'Doyenne du Comice' – A classic dessert pear with a sweet, juicy flavour.Useful links:How to grow fruit trees Fruit rootstock guide