by Diane - April 9th, 2012.
Filed under:
Thompson and Morgan
.
Free delivery offer on the T&M site – have just saved myself some money ordering my artichoke plants!
Thompson & Morgan has this new item today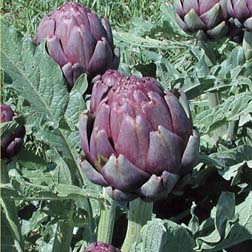 Globe Artichoke 'Concerto' F1 Hybrid – 5 plants £10.99
Customer RatingGlobe Artichoke 'Concerto' is the first spineless purple hybrid variety, producing delicious crops with an excellent flavour. The astonishingly tasty hearts make a supreme delicacy when pickled, and the base of the leaves can be eaten too. This majestic perennial vegetable makes an attractive addition to any vegetable plot. It is ideal for the flower garden too, attracting bees to its thistle like flowers when left unharvested. Height: 180cm (71″). Spread: 75cm (30″).
It's Hugh Fernley-Whittingstall's fault for me buying them! I've always fancied trying my hand at them – but have been sat watching River Cottage Spring where he eat lots and divided up some plants. They looked so fab I thought I'd treat myself!
As soon as they arrive I will document my planting of them!
The code is clearly displayed on the site!