by Diane - April 24th, 2012.
Filed under:
Thompson and Morgan
.
Thompson & Morgan have these lovely buddleja plants. They're available in three colours
Buddleja 'Buzz™ Sky Blue'
Buddleja 'Buzz™ Magenta'
Buddleja 'Buzz™ Ivory'
which means you can have just one of the colours, or go wild and have all three. They'd make a stunning display in your garden and would be great for encouraging butterflies and bees in to your garden.

Buy individually or as a set of three.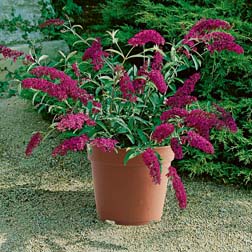 Buddleja 'Buzz™ Magenta' – 1 jumbo plug £6.99
Customer Rating T&M exclusive breedingThe best plant to attract butterflies to your gardenDwarf patio buddleja – won't take over your garden15cm (6in) flowers the size of usual buddlejas, but plants are half the sizeLong-flowering, brightly-coloured blooms attract butterfliesEasy to grow and problem-freePlants last more than 10 yearsCustomer favouriteA new twist on a much-loved garden favourite, 'Buzz'™ is the world's first patio buddleja! These attractive, compact plants are loved by bees and butterflies, but won't take over your garden. Buddleja 'Buzz™ Magenta' is easy to grow and problem-free with a super long-flowering period. Perfectly proportioned for patio pots and smaller gardens. Height and spread: 120cm (47").Useful links:How to grow Buddleja Buzz™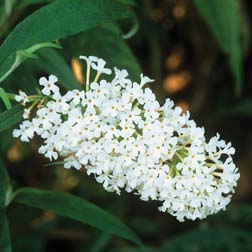 Buddleja 'Buzz™ Ivory' – 1 jumbo plug £6.99
T&M exclusive breedingThe best plant to attract butterflies to your gardenDwarf patio buddleja – won't take over your garden15cm (6in) flowers the size of usual buddlejas, but plants are half the sizeLong-flowering, brightly-coloured blooms attract butterfliesEasy to grow and problem-freePlants last more than 10 yearsCustomer favouriteA new twist on a much-loved garden favourite, 'Buzz'™ is the world's first patio buddleja! These attractive, compact plants are loved by bees and butterflies, but won't take over your garden. Buddleja '™ Ivory' is easy to grow and problem-free with a super long-flowering period. Perfectly proportioned for patio pots and smaller gardens. Height and spread: 120cm (47").Useful links:How to grow Buddleja Buzz™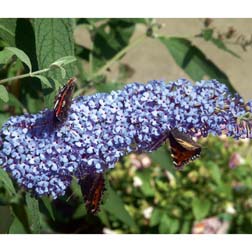 Buddleja 'Buzz™ Sky Blue' – 1 jumbo plug £6.99
Customer Rating NEW in 2012T&M exclusive breedingThe best plant to attract butterflies to your gardenDwarf patio buddleja – won't take over your garden15cm (6in) flowers the size of usual buddlejas, but plants are half the sizeLong-flowering, brightly-coloured blooms attract butterfliesEasy to grow and problem-freePlants last more than 10 yearsThese attractive, compact plants are loved by bees and butterflies, but won't take over your garden. Buddleja 'Buzz™ Sky Blue' is easy to grow and smothered with blooms all summer long. Perfectly proportioned for patio pots and smaller gardens. Height and spread: 120cm (47").Useful links:How to grow Buddleja Buzz™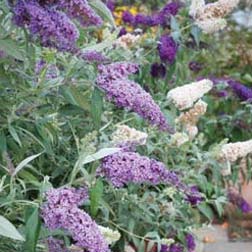 Buddleja 'Buzz'™ Collection – 3 jumbo plugs – 1 of each variety £9.99
Customer Rating T&M exclusive breedingThe best plant to attract butterflies to your gardenDwarf patio buddleja – won't take over your garden15cm (6in) flowers the size of usual buddlejas, but plants are half the sizeLong-flowering, brightly-coloured blooms attract butterfliesEasy to grow and problem-freePlants last more than 10 yearsCustomer favouriteA new twist on a much-loved garden favourite, 'Buzz'™ is the world's first patio buddleja! These attractive, compact plants are loved by bees and butterflies, but won't take over your garden. Buddleja 'Buzz'™ is easy to grow and smothered with blooms all summer long. Perfectly proportioned for patio pots and smaller gardens. Height and spread: 120cm (47").Collection comprises the varieties:Buddleja 'Buzz™ Sky Blue'Buddleja 'Buzz™ Magenta'Buddleja 'Buzz™ Ivory'Useful links:How to grow Buddleja Buzz™