by Diane - April 27th, 2012.
Filed under:
QVC
.
Anti moss spray at QVC – this amazing anti moss spray is back in stock. It sold out back in April.
It's really effective!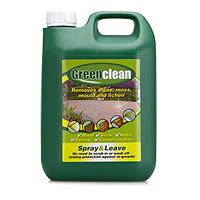 Langdon's Green Clean 2.5 Litres Anti-Moss Spray £16.50
Get rid of ugly moss, algae and lichen with this non-toxic and bio-degradable anti-moss spray. Simply spray the affected area, leave it for 36 hours and it will begin to disappear. In 48 hours it should be totally clear, then you can just sweep it away. This 2.5L spray will cover an area of about 20 square metres. It can be used on block paving driveways, patios, decking, fences, canvas and brickwork. You can even use it on glass or plastic conservatory roofs as long it doesn't rain as it takes a little longer on non-porous materials.