by Diane - June 29th, 2012.
Filed under:
Thompson and Morgan
.
One to buy and start planting now!
Thompson & Morgan sell this great beet grown for it's leaves.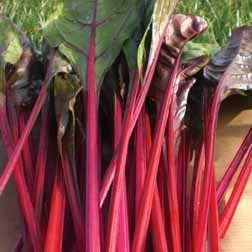 Leaf Beet 'Fantasy' – 1 packet (175 seeds) £2.09
Probably the best tasting Red Chard. The taste is mild, juicy and delicious with no harsh aftertastes unlike most Red Chards. Ideal for successional sowing through the spring and summer for both 'baby leaf' or as mature plants. High tolerance to downymildew.
br />
Sowing Months:March, April, May, June, July, Augustbr />
Position:sun or semi shadebr />
Will need some watering if we get some dry weather – but a few rows of this leaf beet should provide plenty of edibles!