by Diane - August 29th, 2012.
Filed under:
Thompson and Morgan
.
Grow your own comfrey!
I bought both seeds and roots from T&M earlier this year!
I got plenty of comfrey seedlings coming up but the bocking 14 cuttings are doing amazingly well!
I'm letting them flower as the bees love them! And the bocking 14 won't set seed so it's safe.
The root cuttings were started in pots to get them going -and to protect the young tender leaves from slugs.
Once the plant is established then slugs aren't a problem but until it is you need to protect it. After the plants were coming up I planted them out in their proper positions and firmed them in well. They've really done well and I could probably cut a crop from them but I'm letting them get really well established before I do that – so the first cut will be next year. They're happy to have plenty of muck put on them too.

The seeds will be much more established next year – the plants are catching up but are some way behind. If you want more instant comfrey then buy the roots but if you like the idea of a comfrey that will self seed then buy the seeds – but you have been warned!

Bees love comfrey flowers so if you have some in a corner of your garden you'll see bees on the pretty flowers in summer!
So remember if you don't want comfrey spreading then you have to either grow bocking 14 variety or cut the plant regularly before it sets seed.
Comfrey should be grown in every garden and on every allotment.
Once your comfrey is established then you can dig it up and cut roots off to split it up unto more plants. This way you can make a bigger patch or pass on root cuttings to friends who would like some in their garden.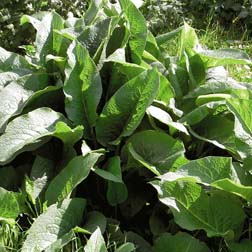 Comfrey 'Bocking 14' – 5 root cuttings
£6.99
Grow your own soil conditioner! Comfrey 'Bocking 14' contains high levels of basic NPK nutrients and because it is a sterile hybrid, it won't self seed all over your garden. The nutrient rich foliage of comfrey can be used as a compost activator, mulch, or soaked in barrels of water for 3 to 5 weeks to make a useful liquid feed for tomatoes and beans. Scatter the wilted leaves throughout potato trenches just before planting, to fertilise the crop and improve their flavour! Once established, this quick growing plant can be cut 3 or 4 times throughout the growing season, for a constant supply of nutrient rich, organic, comfrey fertiliser. Height: 100cm (40"). Spread: 75cm (30").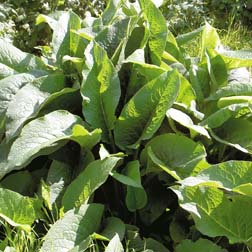 Comfrey – 1 packet (30 seeds)
£2.29
Comfrey leaves can be harvested several times a season and used as a compost activator to help breakdown other compost materials. This perennial herb is also used as a mulch, and makes superb liquid manure on tomato and potatoes plants. Height: 120 (47″). Spread: 150cm (59″).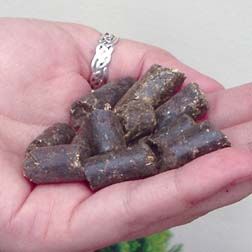 Comfrey Pellets – 1 litre bag – 600 gms
£12.99
All the superb attributes of comfrey – rich in potash, trace elements and minerals – for all of your vegetable plants, particularly beneficial with potatoes. Apply the pellets direct when planting, 125g per sq.m, also makes a concentrated liquid feed (200g steeped in 1 litre of water for 3 days, then diluted 1:25 as a foliar feed). Pellets can be added to rotted garden/ farmyard compost, 600g incorporated in 125 kgs of compost. Comfrey pellets naturally enrich the soil, as a soil conditioner, essential for the long term health of your vegetable garden.