by Diane - September 26th, 2012.
Filed under:
Thompson and Morgan
.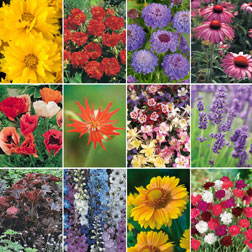 Perennial Collection A+B – 72 plugs – 6 of each variety
£17.99
Fill your beds and borders with this bargain perennial bumper collection. Perennial plants will bloom year after year and they can also be cut for beautiful flower arrangements.
A. Coreopsis 'Sunray' – Neat, compact plants bear golden-yellow, semi-double flowers
all summer long.
B. Echinacea 'Magic Box' – A stunning mix of daisy flowers and spectacular garden
performance.
C. Scabiosa 'Blue Jeans' – Blue pincushion flowers attract bees and butterflies
throughout summer.
D. Foxglove 'Dalmatian Peach' – Peachy trumpet flowers crowd sturdy, upright stems.
E. Poppy 'Pizzicato' Mixed – A neat semi dwarfing variety, producing up to 20
large flowers per plant.
F. Silene 'Jack Flash' – Scarlet blooms carried on elegant, slender stems over
a long period.
G. Aquilegia 'Swan' Mixed – Long flowering, large blooms on upright, multi-branched
stems.
H. Lavender 'Munstead' – A neat, compact variety of fragrant English lavender.
I. Heuchera 'Palace Purple' – Glossy, semi-evergreen purple leaves provide year
round colour.
J. Delphinium 'Pacific Giants' – Excellent adding structure and presence to the
back of borders.
K. Gaillardia 'Arizona' – A spectacular dwarf Blanket Flower with a long-flowering
period.
L. Carnation 'Ever-blooming Mixed' (Hardy) – Richly fragrant blooms that are ideal
for cutting.