by Diane - November 27th, 2012.
Filed under:
Thompson and Morgan
.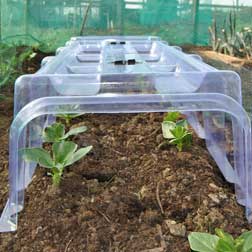 Mini Greenhouse Cloche – 1 pack of 2 cloches, pegs and 2 ends
£34.99
Protect your crops from frosts and animal pests with these robust tunnel cloches. Easy to set up, the thick, rigid walls provide protection for seedlings and young plants, whilst the integral rainwater collection reservoirs mean that the plants can also enjoy natural rainwater. One cloche size – 80cm/31in long x 40cm/16in wide x 22.5cm/9in high. Each sturdy ends will add 15cm to the length of the cloche.
Allows you to extend the growing season.