by Diane - January 18th, 2013.
Filed under:
Harrod Horticultural
.
Seeds need warmth to grow and light for seedings. This equipment will help you get things off to a flying start.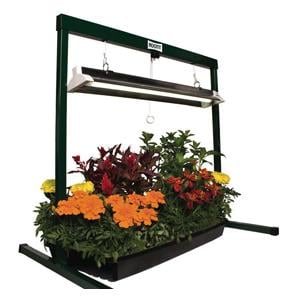 Root!tr Grow Light Systems
£59.95
The Root!t Grow Light System Allows You To Overcome One Of The Biggest Hurdles In Plant Propagation And Early/late Season Growth – A Lack Of Quality Daylight. youll Stop Greeting Dull Mornings With A Resigned Sigh As Your Greenhouse Plants Will Be Illuminated By The Astonishingly Efficient, High Output Root!t T5 Full Daylight Spectrum Bulb, Designed To Provide Young Plants And Seedlings With Essential Light. Each Daylight Bulb Is Cool Running, Economic To Run, Has A 20,000 Hour Life And Produces 20% More Light Intensity Than Standard Fluorescent Grow Lights.the Bulbs Are Supported In A Simple To Assemble And Sturdy, Powder Coated Steel Frame And Heavy Duty Cords Are Used To Adjust The Height Of The Root!t Bulb Unit As The Plants Grow Beneath. Root!t Grow Light System Is Available As A 2ft Model, And Features A Generous 2m Long Power Cord, Independent On/off Switch And Can Be Easily Moved Around The Greenhouse Or Conservatory. root!t Grow Light System Is Ideal If Youre Looking To Get A Head Start In The Vegetable Or Ornamental Flower Growing Stakes, Improve The Success Rate And Vigour Of Your Seedlings And Grow Ridiculously Healthy Plants!root!t Grow Light System Available As 2ft Model.covers An Area Measuring 66.5cm L X 46cm W X 63.5cm Hi57.5cm Reflectorgrow Light Kit Lights 2 Standard Seed Traysideal For Raising Healthy Seedlings Out Of Seasonallows You To Start Propagating And Growing Early In The Seasonincrease The Quality And Quantity Of Plants You Producesimple To Assemble Powder Coated Steel Frameheight Of Bulb Unit Fully Adjustable – Hanging Cords Lock Into Positionsmall Root!t Heat Mat Fits Under 2ft Grow Lightplants Illuminated By High Output Full Daylight Spectrum Bulbbulbs Are 24 Watt/230 Volt Rated And Provide 6400k Full Daylight Spectrumprovide 20% More Light Intensity Than Standard Fluorescent Grow Lightscool Running And Cheap To Run20,000 Hour Life5000 Initial Lumens Output2m Long Power Cordindependent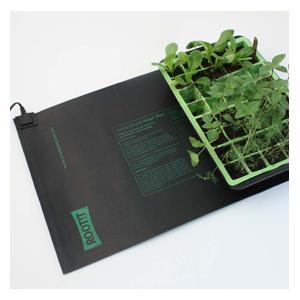 Root!tr Heat Mats
£29.95
The Range Of Root!t Heat Mats Direct Essential Heat To The Engine Room Of Seeds And Cuttings – The Roots – And Can Cut Several Days Off The Time It Usually Takes To Germinate Seeds And Strike Cuttings. these Matsare Available In Three Greenhousesizes, Are Real Quality And Once Plugged Into The Mains (via A 1.8m Long Power Lead) Will Raise The Ambient Temperature At The Base Of Seed Trays Or Pots By Between 5.5 And 11c, The Seedling Equivalent Of Warming Your Feet In Front Of A Blazing Log Fire! Waterproof, Fray Proof And Extremely Durable, The Mats Can Be Used In Conjunction With A Thermostat For Degree Accurate Growing And Can Simply Be Placed On Greenhouse Staging Or A Table – But Providing An Insulated Surface Beneath (eg Polystyrene) And Covering Any Seed Trays With Lids Will Further Improve Results. root!t Heat Mats Offer Uniform Heating And Avoid Hot Spots With Their Intricate Pattern Of Fine Wire; Youll Find Instructions Printed On The Mat So They Can Never Be Lost And Theres A Size To Suit Every Growing Situation – The Small Mat Measures 25cm X 35cm And Takes One Standard Sized Seed Tray; Youll Fit Two Standard Seed Trays On The 40cm X 60cm Medium Sized Mat And The Large – A Jumbo 40cm X 120cm – Will Accomodate Four Seed Trays. Root!t Heat Mats Available In 3 Sizes Small Measures 25cm X 35cm Medium Is 40cm X 60cm Go Large With The 40cm X 120cm Large Version Small Mat Takes 1 Standard Seed Tray Medium Holds 2 Large Will Acommodate 4 Standard Seed Trays Ideal Propagation Aid Clean, Simple And Easy To Use Just Wipe Clean And Roll Up When Not In Use Provides Invaluable Bottom Heat To Seed Trays Encourages Seeds To Germinate And Cuttings To Strike Cuts Days Off Usual Germination Times Root!t Heat Mats Are Manufactured To The Highest Standards Water And Fray Proof Extremely Heavy Duty Tight Labyrinth Of Fine Heating Elements Gives Uniform Heat Distribution And Eliminates Hot Spots Instructions Printed On Mat So Can Nev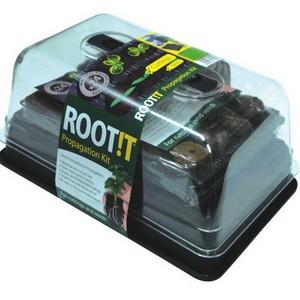 Root!t Propagation Kit
£15.95
Everything You Need To Grow From Seed Or Cuttings. The Kit Comes Complete With A Standard Seed Tray Propagator, A 24 Cell Insert And Tray, Filled With Root!t Natural Rooting Sponges Which Offer The Latest And Fastest Rooting Available Today, A Sterile Scalpel, Root!t Gel4plugs Rooting Gel Root!t First Feed And A Book On How To Grow From Cuttings Or Seeds. The Ideal Introduction Kit To Propagation!propagation Kit Includes:- High Quality Propagator 24 Cell Insert With Root!t Naturalrooting Sponges Root!t First Feed Root!t Gel4plugs Rooting Gel Sterilised Scalpel How To Guide On Achieving Great Results From Your Cuttings Seeds Size: L:38cm X W:24cm X H:18.5cmalso Available In The Available In The Root!t Range:-gpr-042 – 24 Filled Propagation Insert Tray. The Perfect Cutting And Germination Product. 24 Root!t Natural Rooting Sponges Supplied In A Specially Designed Full Plug Height Insert Tray.gpr-043 – Root!t Natural Rooting Sponges – 50 Refill Bag To Maximise Your Success Rate And Grow Faster, More Vigorous Roots With Root!t Natural Rooting Sponges.