by Diane - January 30th, 2013.
Filed under:
allotment
.
If you love chips then this is supposed to be one of the very best chipping potatoes!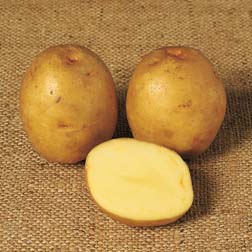 Potato 'Yukon Gold' – 20 tubers
£4.99
Second early. 'Potato 'Yukon Gold' could win you over on appearance alone. ' This attractive variety produces oval tubers with gorgeous golden skins with buttery yellow flesh of a delicious, rich flavour. ' This second early variety is superb baked, roasted or fried. ' Height and spread: 60cm (24"). '
The telegraph says so in their article about picking the right seed potatoes
"If you want the best chips, then 'Yukon Gold' is the one to choose. Great boiled and baked too, its buttery, bold yellow flesh takes to deep frying like no other. They are usually ready to harvest in early summer, almost always dodging the arrival of blight."
Lots of other potato info in the article!