by Diane - March 13th, 2013.
Filed under:
Harrod Horticultural
.
This is something we use during the growing season. Seaweed extract as plant food. It's available in several different brands – and it's great stuff!
Seaweed extract plant fertiliser can be applied as a root drench or foliar spray and used through all stages of growing – germinating, propagation, transplanting, and growing – and with regular use, plants will become stronger, healthier and develop increased resistance to pests and diseases

Easy to apply!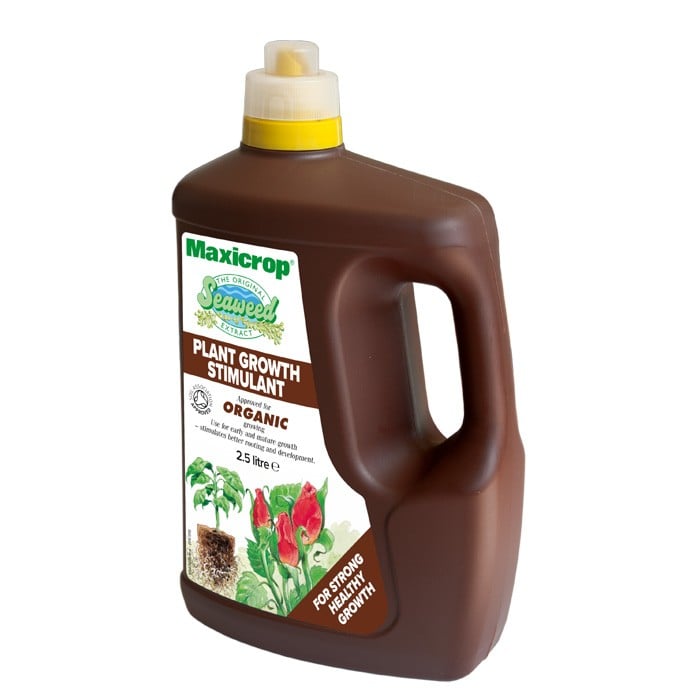 Maxicrop Original Organic Seaweed Plant Growth Stimulant
£14.95
The Maxicrop Original Organic Plant Growth Stimulant Is A Potent, Plant-benefitting Liquid Feed Mix Based On Seaweed Extracts And Almost Guaranteed To Give Flowers, Fruit, Vegetables, Shrubs And Trees A Real Health Boost! this Heady And Versatile Plant Feed, Approved By The Soil Association, Can Be Applied As A Root Drench Or Foliar Spray And Used Through All Stages Of Growing – Germinating, Propagation, Transplanting, And Growing – And With Regular Use, Plants Will Become Stronger, Healthier And Develop Increased Resistance To Pests And Diseases. Maxicrop Original Organic Plant Growth Stimulant Is Supplied In A 2.5 Litre Bottle With Full Dosing Rates And Application Advice And Can Also Be Used On Lawns And Turf Throughout The Growing Season Too, Making This An Organic Plant Feed For The Whole Garden!maxicrop Original Organic Plant Growth Stimulant Supplied In A 2.5 Litre Bottle. soil Association Approved. seaweed Extract-based Liquid Feed is suitable For Use On All Stages Of Plant Growth From Germination Through To Mature Plants apply To Lawns And Turf Too During Growing Season improves Plant Health, Strength And Resistance To Pests And Diseases maxicrop Original Organic Plant Growth Stimulant Suitable For Use On Flowers, Fruit, Vegetables, Shrubs And Treessimply Add To Water And Apply With Watering Can Or Sprayer full Dosage Rates And Application Instructions On Bottle completely Organicuse As A Root Drench, Foliar Spray Or As A General Liquid Feed/fertiliser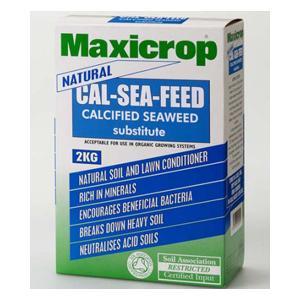 Maxicrop Organic Plant Cal-sea-feed
£7.95
Not Only Does Maxicrop Organic Plant Cal-sea-feed Do Your Plants And Lawn The World Of Good Thanks To The Blend Of Ground Dried Seaweed But It Allows You To Reduce The Acidity Of Soil And Grow Crops Which Would Otherwise Flounder – Its A Great All Round Organic Garden Fertiliser!used At The Recommended Application Rate Of 70g Per M, A 2kg Pack Of Soil Association Approved Maxicrop Organic Plant Cal-sea-feed Will Treat 28.5m And The Limestones Present In This Granular Plant Food Will Neutralise Acidic Soils And Both Provide And Unlock Calcium And Magnesium, Two Essential Plant-growth Trace Elements. The Seaweed Extracts In Maxicrop Organic Plant Cal-sea-feed Get Soil Microbes Going And The Result Is Healthy Plants With A Stronger Root System And In Far Better Shape To Resist Pests And Diseases.the Only Plants Not Happy To See Maxicrop Organic Plant Cal-sea-feed Will Be Ericaceous Or Acid-loving Specimens But Brassicas In Particular Will Welcome This Powdered Limestone/seaweed Combination; Growing In More Alkaline Soils Helps Reduce The Likelihood Of Their Arch-nemesis, Club Root. maxicrop Organic Plant Cal-sea-feed Based On Seaweed Extracts And Limestones supplied In A 2kg Packet – each Box Covers 28.5m At The Recommended Application Rate Of 70gm – ideal For Raising Ph Levels In Acidic Soils use On Beds And Bordersmakes An Excellent Spring Lawn Top Dressingrich In Mineralsencourages Beneficial Bacteriaplants Benefit By Producing Stronger Rootshealthier Plants More Able To Resist Pest And Disease Attacksbreaks Down Heavy Soilssource Of Calcium And Magnesiumsoil Association Approved for Organic use From February To October. Sustainable Alternative To Non-soil Association Accredited Calcified Seaweed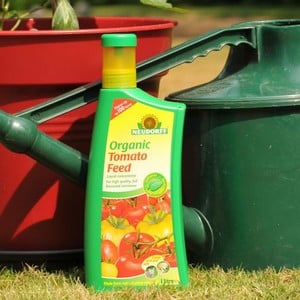 Organic Concentrated Tomato Food
£4.95
Organic Concentrated Tomato Food Is A Fast Acting Liquid Fertiliser Feed For Growing Tomatoes And Is Also Suitable For Courgettes, Aubergines And Flowering Plants. Supplied In A 1 Litre Bottle, All The Essential Nutrients Are Present With Added Seaweed Extract And Magnesium For Season Long Heavy Cropping npk ratio 5:2:51 Litre Container dilution – 50ml Into 4.5 Litres