by Sarah - May 12th, 2013.
Filed under:
Crocus
,
New Products
.
Crocus has these new products today
Camellia japonica 'Matterhorn' (camellia) £24.99
Position: partial shade (but not east-facing) Soil: moist but well-drained, humus-rich, acid soil (or ericaceous compost for container-grown specimens) Rate of growth: average Flowering period: January to March Hardiness: fully hardy Garden care: To prevent damage to the emerg ing buds and flowers protect from cold, dry winds and early morning sun. Water e stablished plants in dry weather to prevent bud drop. Apply a balanced liquid fe rtiliser in mid-spring and again in June. Top-dress annually with shredded bark or well-rotted leaf mould. After flowering lightly trim or prune any branches th at spoil the appearance of the plant.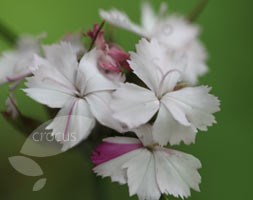 Dianthus 'Miss Farrow' (pink) £12.99
Position: full sun Soil: well-drained, neutral to alkaline soil Rate of growth: average Flowering period: July to September Hardiness: fully hardy Bred by Stephen Nelson at Darasina Nursery in Essex, the blooms of this delightful new pink have more than once been compared to champagne bubbles (the pink kind) as they sway and bob in a gentle breeze. Apt then that Ulf Nordfjell chose to include it in his 2013 Chelsea garden for Laurent-Perrier. Opening from bud a very pale pink, occasionally with a magenta flash, the flowers fade to mid-pink as they mature and have a very light scent. They are held on long, slender stems, that will usually stand up well in most weather conditions, particularly if they are not grown on rich soils. A pretty addition to the cottage garden border, it will also prove a handsome partner for ornamental grasses. Garden care: Incorporate well-rotted manure or garden compost into the planting hole and apply a balanced fertiliser in spring. Deadhead regularly to prolong flowering.
Achillea 'Alabaster' (yarrow) £6.99
Position: full sun Soil: well-drained, including dry Rate of Growth: average Flowering period: August to October Hardiness: fully hardy Flowering later than many other yarrows, this one has the same attractive grey-green foliage, from which upright stems emerge bearing flattened heads of pale yellow flowers, which turn to milky white as they mature. After they have faded, the developing seedheads create an attractive silhouette, which remains interesting well into winter if you don't cut it back. A good mixer with other late perennials such as Asters, it also works really well with ornamental grasses. Garden care: Stake using bamboo canes or brushwood before the flowers appear. Cut down to the grou nd in late winter, but resist the urge to do this earlier, as the seed heads loo k lovely in the winter light. Lift and divide large clumps in late autumn or early spring.