by Sarah - May 25th, 2013.
Filed under:
Crocus
,
New Products
.
New lines today at Crocus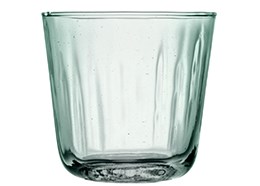 Mia tumbler glasses £15.99
Individually handmade and with a delicate decoration, Mia is produced entirely from recycled bottles and jars.
Achillea 'Wesersandstein' (yarrow) £7.99
Position: full sun Soil: moist, well-drained Rate of Growth: fast-growing Flowering period: July to September Flowers: pinky orange Other features: fern-like leaves Hardiness: fully hardy A German hybrid, which is named after, and has the same colour as the sandstone found beside the Wesser river. The pinky-orange flowers emerge from bud and age to a light dusty rose or even cream. It is a shorter variety, that has a long flowering period, and this can be extended even further by removing the faded blooms. Like all the achilleas, the flowers are irresistible to butterflies, bees and other beneficial insects. Perfect for a cottage garden. Garden care: Achilleas do not like wet soil, especially in winter. Stake if necessary using bamboo canes or brushwood before the flowers appear. Cut down to the ground in late winter, but resist the urge to do this earlier, as the seed heads look lovely in the winter light. Pull out seedlings as they appear, as they rarely match the parent plant. Lift and divide large clumps in late autumn or early spring.
Hemerocallis 'American Revolution' (daylily) £6.99
Position: full sun Soil: fertile, moist, well-drained soil Rate of growth: average Flowering period: June to July Hardiness: fully hardy This is a large, deep blood-red daylily that flowers from June to July. It look s fabulous planted in drifts in a sunny mixed or herbaceous border among 'hot' colours or with cannas and montbretias as companions. The bright-green, strap- like leaves are semi-evergreen in mild areas, and soon form large clumps of stra p-like foliage that helps to suppress weeds. Like most hemerocallis, it is robu st and easy to grow, provided you follow the tips below. Garden care: The Greek term 'hemerocallis' means 'beautiful for a day', and daylilies need regular deadheading to prolong flowering and prevent their unsightly deadheads from dominating the scene. Each stem carries several flowers, so snap off each flower as it fades. When the stem has finished flow ering, cut it down to the ground. After the plant has finished flowering altoge ther, pull out the dead leaves. When the foliage is looking tatty, cut it down to the ground and fresh new growth will appear. Lift and divide every two years in spring to keep the rhizomes vigorous and apply a generous 5-7cm (2-3in) mulch of well-rotted garden compost or manure around the base of the plant. Water frequently from spring until the buds appear.