by John - June 27th, 2013.
Filed under:
Harrod Horticultural
,
New Products
.
New item at Harrod Horticultural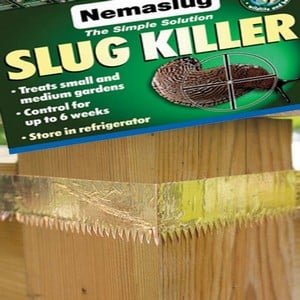 Slug Copper Tape & Nemaslug Offer £15.00
We Have Put Together This Special Offer To Help You Beat Slugs Above Ground And In The Soil, Combining The Best Selling Nemaslug Slug Killer And Slug Copper Tape It Should Be You Eating The Plants This Year Not The Slugs.nemaslug Is Simple To Apply, Impossible To Overdose And Totally Safe To Use Around Children, Pets And Wildlife, Nemaslug Slug Killer Is Ideal For Organic Gardening And Each Treatment Will Give 6 Weeks Protection Against Slugs. Simplt Mix The Nematodes With Water, Choose A Watering Can With A Coarse Rose – Or Make Life Even Easier With A Hosepipe Applicator – And Water On The Garden From The Start Of The Growing Season Once Soil Temperatures Hit 5c. The Pack Supplied Covers An Area Of 40sqm.slug And Snail Copper Tape Has Long Been One Of Our Best Sellers And Is Proven To Deter Slugs As Copper Has A Natural Charge Which Gives Slugs And Snails A Mini Shock When They Come Into Contact With It. This Tape Is Sticky Backed For Easy Application And Is Supplied In A 4m Roll – Ideal To Use On Raised Beds, Pots And Containers.promotion Includes Nemaslug Pack (covers 40sqm) And Slug Copper Tape 4msave 2.70 On Buying Separately!nematode Pest Control Deliverybeing A Live Product Nematodes Are Ordered Weekly Every Thursday. The Nematodes Are Then Delivered On Wednesday Of The Following Week For Delivery By The End Of The Week.for Example An Order Placed On A Monday Would Be Ordered On Thursday, Received The Following Wednesday For Delivery By The End Of That Week.