by Sarah - August 14th, 2013.
Filed under:
Crocus
,
New Products
.
Crocus just added these new items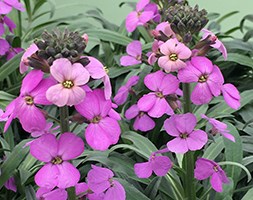 Erysimum 'Bowles's Mauve' (wallflower) £6.99
Position: full sun Soil: poor to moderately-fertile, well-drained, neutral to alkaline soil Rate of growth: average to fast-growing Flowering period: February to July Hardiness: fully hardy This long-flowering, bushy, vigorous wallflower produces long spires of deep mau ve flowers from late winter to summer above narrow, grey-green leaves. It is a short-lived plant, but makes a vivid display for months in a sunny border. Try it as part of a colour-themed scheme, or contrast it with vivid yellows. It al so looks good in a rock garden or raised bed. Garden care: Requires little attention. Provide cloche protection wh ere frosts are very severe or prolonged.
Arum italicum (lords and ladies) £5.99
Position: full sun to partial shade Soil: well-drained, humus-rich soil Rate of growth: average Flowering period: May to June Hardiness: fully hardy The lustrous, arrow-headed foliage, which is usually quite heavily patterned appears in winter, providing a colourful, groundcovering carpet during some of the bleakest months of the year. This tends to die back in late spring, but (in sunnier spots) it is followed by greenish cream spathes. Later still spikes of bright orange-red berries add further interest. An excellent plant for naturalising in a woodland setting – the leaves tend to be larger in partial shade. Garden care: Plant the tubers 10 deep and 15 – 20cm apart. Keep well watered during the growing season (winter and spring), but a dry summer and autumn dormancy is preferred.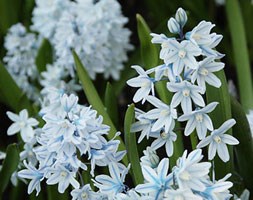 Puschkinia scilloides var. libanotica (puschkinia) £4.99
Position: full sun or partial shade Soil: most well-drained soils Rate of growth: average Flowering period: March to April Hardiness: fully hardy At roughly the same time in spring, the strappy upright(ish) foliage appears, almost seeming to stand guard at each side of the emerging flowerspike. This spike carries up to 10 near-white flowers, which often have a faint blue stripe down the length of each petal. It is very pretty when intermingled with Cyclamen or Fritillaria (the snake's head type), but avoid overcrowding as they like their space, and will naturalise areas under tres and shrubs if left undisturbed. They do well in pots too. Garden care: Plant 5 – 10cm deep and a similar distance apart in autumn. Leave undosturbed and they will form good-sized clumps.
Tulipa 'Queen of Night' (single late tulip bulbs) £3.99
Position: full sun Soil: fertile, well-drained soil Rate of growth: average Flowering period: Apr-May Flower colour: purple-black Other features: excellent cut-flowers Hardiness: fully hardy Bulb size: 12/+ These are probably the best loved of the deep purple tulips. Their velvety, dark maroon, single, cup-shaped flowers on straight stems in May are stunning, so they do deserve their acclaim. The almost-black tulips work well in a 'bruised' coloured border, planted between other plum-coloured flowers and foliage plants. Shown here photographed with tulip 'Shirley' Garden care: In September to December plant bulbs 15-20cm deep and 10-15cm apart in fertile, well-drained soil. Alternatively, allow 7-9 bulbs per 30cm sq. After flowering dead-head and apply a balanced liquid fertiliser each week for the first month. Once the foliage has died down naturally lift the bulbs and store in a cool greenhouse.