by Sarah - August 15th, 2013.
Filed under:
Crocus
,
New Products
.
New items added today at Crocus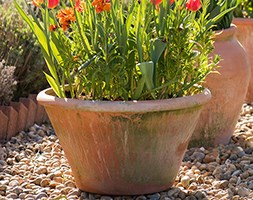 Lucca terracotta pot £79.99
Beautifully proportioned pots that are wider than they are tall, which lend themselves particularly well to mixed planting schemes. They look especially good when crammed full of seasonal bedding, herbs or alpine plants that are allowed to spill out over their angular sides. The striking shape and classic good looks, makes them statement pieces that will create beautiful focal points for either the garden or patio. Available in two sizes. Dimensions: Medium 30cm high x 45cm diameter Large 42cm high x 60cm diameter Terracotta Pot Size Guide We thin k these classic, unfussy designs work best in an English garden. Although the in spiration came from Tuscany, the pots have been made in Turkey. They are hand th rown (sometimes from 2 pieces of clay for the larger pots) by Argun and his son who are the 3rd and 4th generation of potters from the Izmir region on the Aege an coast. The clay from this area ages to a lovely patina, as the salts slowly l each to the surface. Each pot is fired to 1080 degrees C (to make it as frost proof as possible) and has an extra large drainage hole in the base. Available in more than one size. All sizes sold separately.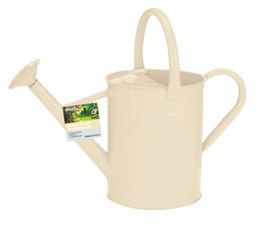 Metal watering can – cream £7.99
Ensure your plants stay well watered with this cream watering can. A very solid metal construction with a cream painted finish to it can hold up to 11.8 litres of water (2.6gal). Includes rose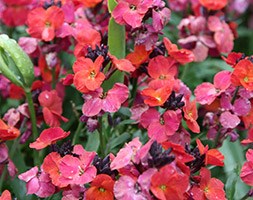 Erysimum 'Winter Orchid' (wallflower) £6.99
Position: full sun Soil: poor to moderately-fertile, well-drained, neutral to alkaline soil Rate of growth: average to fast-growing Flowering period: February to August Hardiness: fully hardy Compact mounds of slender, evergreen foliage are topped with masses of fragrant flowers, which change colour from burnt orange to pinkish-purple as they age. This creates a very pretty and colourful effect as the season progresses. Garden care: Provide cloche protection where frosts are very severe or prolonged.