by John - August 17th, 2013.
Filed under:
Harrod Horticultural
,
Price Reductions
.
Harrod Horticultural has cut the price of this item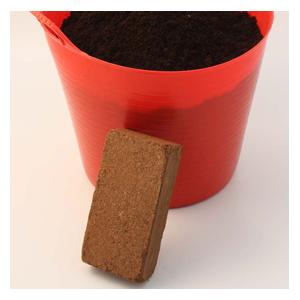 Eco-coir Bricks And Bale was £9.75 now £8.75
Producing 70-80 Litres Of Peat-free Growing Medium From A 30cm L X 30cm W X 13cm H Coir Bale Sounds Like Something Only Derren Brown Or Paul Daniels Could Manage – But This Seemingly Impossible Horticultural Magic Trick Is Something You Can Perform In Your Own Kitchen Garden, Vegetable Patch Or Allotment, Thanks To The Eco-coir Bricks And Bale! just By Adding Water And Stirring, You Can Convert These Organic, Peat-free, Compact Bricks Of All-natural Coconut Fibre (coir) Into A Growing Medium For Soil Conditioning, Hanging Baskets And Container Growing Or As Additional Brown Matter For Home Composts – Even As A Bedding Material For Worm Composters.they Can Also Be Used To Lighten Clay Soils, Improve Water Capacity In Sandy Soils Or Can Play A Major Part In Creating An Ideal Potting Compost By Mixing With Other Components, Such As Sand, Garden Compost, Loam And Manure. The Eco-coir Bricks Measure 20cm L X 10cm W X 6cm H And Produce 9 Litres Of Compost Whilst The Bales Measures 30cm L X 30cm W X 13cm H And Will Provide You With Between 70 And 80 Litres Of Peat-free Multi-purpose Compost – The Size Of A Large Garden Centre-bought Bag! see Our Extra Value Offerand Save A Further 1 When Purchasing A Set Of 5 Eco-coir Bricks.eco-coir Bale Measures 30cm L X 30cm W X 13cm Hweighs 5kgmakes Between 70-80 Litres Of Multi-purpose Composteach Eco-coir Brick Makes 9 Litres Of Clean, Lightweight, Carbon-rich And Odour-free Growing Mediumweighs Just 550gsuitable As A Base Material For Potting Mixessaves Time, Space And Effortideal Where Home Composting Is Limited Or Impossibleno More Buying Expensive Bags Of Garden Centre Compostenvironmentally Friendly – No Waste Packaging Or Bags To Dispose Ofimpoves Water Retention In Sandy Soilsideal Soil Structure Improverextra Value Offer! Buy A Set Of 5 Eco-coir Bricks And Save A Further 1!