by Sarah - September 1st, 2013.
Filed under:
Crocus
,
Price Reductions
.
Reduced lines at Crocus
Daphne odora Marianni ('Rogbret') (PBR) (daphne) was £19.99 now £14.99
Position: full sun or partial shade Soil: moderately fertile, well-drained, humus-rich soil Rate of growth: average Flowering period: January to March Hardiness: borderline hardy (may need winter protection) Each leaf has a broad, creamy-yellow edge, which creates quite a pronounced variegation that will help illuminate shadier beds. From late winter the rounded clusters of pink flowers, which form at the ends of the leafy branches, open and fill the surrounding air with their delicious scent. This handsome evergreen has a rounded shape, and is ideal for a mixed shrub border or woodland garden. Try not to plant it too far away from a footpath or entrance though, as you will want to take full advantage of the flowers' sweet perfume. Garden care: Keep pruning to a minimum as the plant is susceptible to die-back. Where necessary after flowering, lightly trim to remove misplaced branches and maintain a compact habit.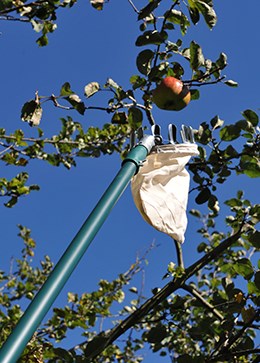 Telescopic fruit picker was £16.99 now £14.99
This clever gadget makes it easy to pick fruit without damaging them – even on reasonably tall trees. The pole will extend up to 3m long, and at its end is a ring of galvanised 'teeth' which help dislodge the fruit from the tree, while the tear-proof linen bag will catch them as they fall. A simple idea – but it works a treat. Dimensions: length 186cm (unextended)
Magnolia denudata Yellow River ('Fei Huang') (magnolia) was £39.99 now £24.99
Position: full sun or partial shade Soil: moist, well-drained, neutral to acidic soil Rate of growth: average Flowering period: April to May Hardiness: fully hardy Large, elegant, creamy-yellow, goblet-shaped flowers open from yellow buds in April and May on bare branches. This magnolia forms a natural dome shape and has spreading, horizontal branches that give it an elegance even when not in flower. This rare variety makes a superb specimen tree for a small garden. It is best grown in fertile, well-drained soil that is slightly acidic. A great tree for a woodland garden where it can be sheltered by other trees – it does not like exposed, windy sites. Magnolias can be a little tricky to grow to begin with but the rewards are well worth it. The main thing is to avoid planting in a frost pocket as this will damage the emerging buds. The same is true for exposed and windy spots. Once established, magnolias are fairly low maintenance though newly planted trees benefit from a good, deep mulch in spring to get them started. Garden care: Requires minimal pruning. Remove any broken, diseased or crossing branches in midsummer. The best time to plant is in April, adding plenty of peat to the planting hole, in a sheltered spot. Mulch in spring with manure and leafmould, especially on dry soils.