by Sarah - September 6th, 2013.
Filed under:
Crocus
,
New Products
.
Crocus just added this new product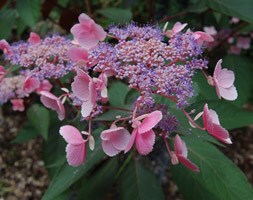 Hydrangea aspera 'Hot Chocolate' (rough-leaved hydrangea) £29.99
Position: full sun or partial shade Soil: moist, well-drained, moderately fertile, humus-rich soil Rate of growth: average Flowering period: August to September Hardiness: fully hardy Garden care: Hydrangeas do not like to dry out. In dry weather, soak the roots with a hose and the plant will usually recover. Remove faded flowerh eads in spring after the danger of frosts, cutting back the flowered stems to a strong pair of buds. Take out misplaced or diseased shoots. Mulch young plant s with a well-rotted manure or compost in spring. Once established, remove a quarter to a third of the shoots to the base of the plant.