by Sarah - September 7th, 2013.
Filed under:
Crocus
,
New Products
.
Crocus has these new lines today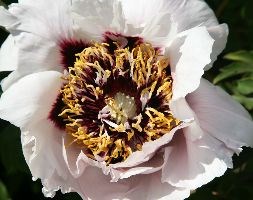 Paeonia rockii 'Xue Lian' (tree peony / tree paeony (syn Snowy Lotus)) £39.99
Position: full sun or partial shade Soil: fertile, moisture-retentive yet well-drained soil Rate of growth: average Flowering period: April to May Flower colour: white flushed with pale pink Other features: bright green leaves Hardiness: fully hardy Until recently, this beautiful cultivar was rarely seen as it was considered too difficult to propagate, but fortunately things have moved on and it is now more widely available. It is a beautiful form, with large, single white flowers that are often flushed with pink, and each petal has a purple stain at their base. The grey-green dissected foliage of this deciduous shrub is dramatic enough to provide architectural interest towards the back of a mixed border even after the flowers have faded. Garden care: Protect from cold winds and early morning sun. Support the branches of young shrubs with canes to prevent the massive flowerheads from being battered by rain. Tree peonies are hungry feeders, so ensure that container-grown specimens receive a top-dressing of a slow-release fertiliser in spring. In the border apply a top-dressing of a balanced, slow-release fertiliser around the base of the plant in early spring and mulch with well-rotted garden compost or manure. The older stems of tree peonies have a tendency to become brittle and snap, so cut these back to the ground in autumn every two or three years.