by Sarah - September 14th, 2013.
Filed under:
Crocus
,
Price Reductions
.
Reduced items at Crocus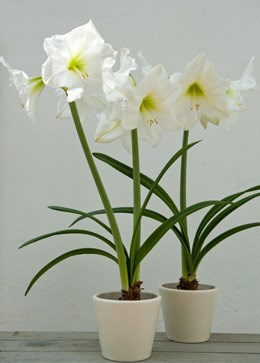 Hippeastrum 'Snow Queen' (amaryllis Snow Queen bulb) was £8.99 now £6.99
Position: bright but not in full sun Soil: good quality potting compost Flowering period: December to March Flower colour: white Other features: knock-out flowers Hardiness: frost tender Bulb size: 26/28 Often in flower at Christmas if planted early enough, this magnificent white flowering amaryllis will often produce several large, trumpet-shaped blooms on top of the tall stems during the coldest months of the year. Wonderful for adding colour and brightness to your home, the flowers will usually open over a period of several weeks. Bulb Size: 26/28 General care: Fill a pot with good quality potting compost, setting the bulb in the compost so that the top two thirds are exposed. Water the compost only when the surface is dry, watering too much just after potting can cause the bulb to rot. Keep the plant in a sunny spot, though not direct sun and rotate the plant so as to avoid the flower stalk leaning towards the light. Once flowering has finished cut off the flower stalk 5-10cm above the bulb – don't cut off the foliage. Water when the surface of the compost is dry and feed regularly with a balanced liquid fertiliser. Usually the best thing to do is keep watering it through the summer and in autumn stop watering and move to a dark, dim spot. This stimulates the drought season of the plant's native South America. Allow it to dry out for a few months so that the foliage wilts and dies back. In November bring it back in to the light and start watering again. Old foliage should be removed though take care not to cut any new shoots off. In a few weeks a new flower shoot will appear and flower just in time for Christmas.
Rhus typhina (stag's horn sumach) was £16.99 now £8.49
Position: full sun Soil: moist but well-drained, moderately-fertile soil Rate of growth: average Flowering period: June to August Flower colour: conical clusters of yellow-green flowers Other features: on female plants the flowers are followed by deep crimson-red fruit Hardiness: fully hardy An upright, deciduous shrub or small tree with finely-cut dark green leaflets turning spectacular shades of orange-red in autumn. Stag's horn sumach is an excellent specimen plant for a small sunny garden. Since it spreads by suckering avoid planting too close to a lawn or surround the roots with a non-perishable barrier that will restrict the plant's spread. Garden care: Wearing stout gardening gloves remove any suckering shoots that arise around the base of the plant.
Pseudosasa japonica (arrow bamboo 'japonica') was £29.99 now £24.99
Position: full sun or partial shade Soil: humus-rich, moist, well-drained soil Rate of growth: fast growing Leaves: dark green, oblong Canes: olive green, maturing to pale beige and dark green Hardiness: fully hardy Tall, vigorous bamboo with olive canes maturing to pale beige and dark green oblong leaves. Arrow bamboo is one of the most wind and shade tolerant varieties. Broadly upright in habit, as long as the roots are surrounded with a non-perishable barrier it makes an attractive screen or windbreak for moist, well-drained areas of the garden. Garden care: Plant in a large container or surround the roots with a non-perishable barrier that restricts the plant's spread