by Sarah - September 18th, 2013.
Filed under:
Crocus
,
New Products
.
Crocus has these new products today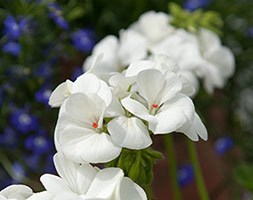 Geranium 'White' (40 plus 20 FREE large plug plants) £15.99
Position: full sun Soil: moderately fertile, humus-rich, well-drained soil Rate of growth: average to fast-growing Flowering period: June to October Flowering colour: white Hardiness: tender (needs frost protection) White flowers are produced in profusion on the stout stems, which rise above bushy mounds of variegated foliage. They stand up well to rain and put on an impressive show that can last for months on end if they are deadheaded regularly. If you want to add some other colours to the display, then blues, purples, silvers and softer shades of pink would be ideal. Grown in individual plug cells, each plant measures about 5 – 7cm tall (from the base of the root to the top of the plant). They are ideal for keen gardeners who have a greenhouse where the plants can be plants can be grown on until they are ready for planting out in the garden once all chance of frost has passed. Please note that as we grow these for especially for you, we need to take full payment when you place your order so as to reserve stock for you. See above for despatch dates for this particular plant. To ensure that your plants arrive in the best possible condition each pack will be despatched individually. Our Plug Plants – Four sizes are available – Click for information about sizes
Cosmos bipinnatus 'Rubenza' (40 plus 20 FREE large plug plants) £15.99
Position: full sun Soil: moderately fertile, moist, well-drained soil Rate of growth: average Flowering period: June to October Hardiness: half hardy annual Each flower emerges from bud a deep, velvety red, but as they age, the colour lightens gradually to a rich rose. Therefore when in full bloom the overall effect is very pretty, displaying all the tonal variations of the flowers. Easy and undemanding annuals that will flower right up until the first frosts if they are dead-headed regularly, their flowers can be added to the posies too. Garden care: In early spring, sow shallowly in seed trays and keep under glass, transplanting them into individual pots when large enough to handle. Harden off before planting outside after the frosts. Alternatively, sow in-situ in mid to late spring in a well-prepared bed and thin the seedlings out as they grow to allow approximately 30cm between each. As the seedlings grow, pinch out the tips to encourage bushier plants. Taller plants may need supporting with brushwood stems in exposed positions. Sow: March-May Flowering: June-October Approximate quantity: 30 seeds.
potato planting bags – Twin Pack £6.99
These reusable potato bags feature strong handles, eyeletted drainage and a harvest flap to make harvesting a breeze. Ideal for patios and small gardens Dimensions: 35cm x 45cm (Diameter x Height) Holds approx 40 litres of compost.