by John - September 21st, 2013.
Filed under:
Harrod Horticultural
,
New Products
.
Harrod Horticultural has these new lines today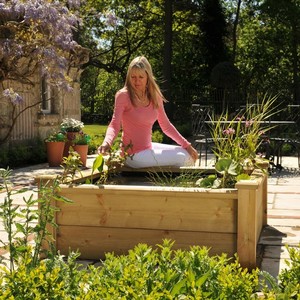 Wooden Raised Bed Pond Kits £199.95
Our Wooden Raised Bed Ponds Are Ideal For An Instant And Long-lasting Garden Pond Which Looks Great In The Garden Or On The Patio Or Decking, Easy And Quick To Assemble – It Really Is A Case Of Just Add Water!the Wooden Pond Kits Are Based On Our Extremely Popular Superior Wooden Raised Beddesign And The Attractive, 40cm Deep Raised Bed Pond Enjoys All The Benefits Of The Beds – Chunky 10cm (4″) Corner Posts, 3.5cm (1″) Thick Fsc Planed Planks For A Quality Finish And 10cm (4″) Wide Capping To Sit On And Admire Your Fish – Along With Extra Corner Reinforcement And A Thick Pond Liner Which Carries A 5 Year Guarantee. the Wooden Raised Bed Pond Kits – Available In Two Easy-to-place Sizes – Will Bring Life To Gardens Of All Sizes And Are Particularly Popular On Decking And Patios, Where The Sound And Sight Of A Water Feature Or Pond Is Very Appealing. say No To Expensive Digger Hire, Back Breaking Excavating, Plenty Of Mess And Piles Of Spoil And Yes To A Quality Garden Pond In The Blink Of An Eye!raised Bed Pond Kits Create An Instant Garden Pondavailable In Four Sizes – 0.6m X 1.2m (2ft X 4ft), 1.2m X 1.2m (4ft Square), 1.2m X 1.8m (4ft X 6ft)all Sizes Are 40cm Deepbased On Our Renowned Superior Timber Raised Bed Designponds Feature Reasurringly Thick 10cm (4″) Corner Postsplaned 3.5cm (1″) Thick Fsc Planed Plankschunky 10cm (4″) Wide Capping Lines Edges To Form A Comfortable Fish-viewing Seatuv Stabilised Heavy Duty Pond Liner Has 5 Year Guaranteereinforced Corner Sections For Extra Strengthquick And Easy To Assembleideal For Patio And Decking Areasno Excavation Or Back Breaking Ground Preparation Workideal For Keeping Fish Or As A Water Featureimproved Accessibility For Those Less Mobileuse A Solar Powered Pump Oxygenator To Keep Water Clearself Assembly Required – Full Instructions Includedwhen Positioning Your Raised Bed Pond, Please Ensure The Area Is Level And Clear Of Stones And Other Sharp Objects.
Plus…
4 products from Bird Netting & Fruit Cage Netting
2 products from Butterfly Netting
2 products from Windbreak & Shade Netting
1 products from Hoops & Plant Covers